Come October, the 181 room Clarion Hotel on the Park in Sydney's Parramatta become Holiday Inn Parramatta following a rebranding.
Come October, the 181-room Clarion Hotel on the Park in Sydney's Parramatta become Holiday Inn Parramatta following a rebranding.
Located within short walking distance of the CBD of the city of Parramatta, the largest commercial, retail and residential hub west of Sydney.
The property incorporates an all-day dining restaurant, bar, seven meeting rooms totalling 371 sqm of function space, a heated outdoor pool, business centre and parking for 220 vehicles.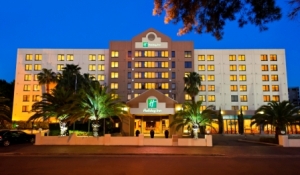 The Holiday Inn Parramatta is expected to officially open on October 18 this year.
The hotel is in the midst of a refurbishment program in which all guest rooms and public areas have already been upgraded. Holiday Inn's international brand hallmarks will be put in place upon rebranding of the hotel on 18 October.
Parramatta has a working population of more than 90,000 and is close to business hubs at Sydney Olympic Park, Norwest and Rhodes. It's also central to leisure attractions at Sydney Olympic Park, Sydney Showgrounds and Rosehill Racecourse.
"I'm pleased to welcome an international brand such as Holiday Inn to Parramatta, which is a great vote of confidence in our local tourism and hospitality market," said Lord Mayor of Parramatta, Cr Lorraine Wearne.
"With our central Sydney location, strong commercial core and growing appeal as a tourist destination, Holiday Inn is sure to have an important role to play in servicing the visitor and corporate needs of Parramatta."
The agreement to bring Holiday Inn to Western Sydney coincides with the brand's 60th birthday, and following the USD1 billion investment into revitalising the ubiquitous brand here and around the world.
"Parramatta will be a feather in Holiday Inn's cap, particularly given the NSW government's strong focus on growing the city as a key commercial centre of Sydney," said IHG Australasia regional director of operations, Bill Edwards.
"This is a high-quality property that will prove an excellent example of the Holiday Inn brand, with a solid offering for our many corporate and MICE clients and Holiday Inn's sporting partnerships that will also immediately appeal to our leisure guests. We're confident our expertise, systems and the Holiday Inn brand will be an asset for this hotel."
ANZM representative and hotel manager, Yesh Mudaliar said Holiday Inn will deliver return on investment into the asset and increase the hotel's share of business in western Sydney.
"We selected Holiday Inn based on the strength of the brand both here and worldwide, and its proven ability to deliver premium returns on the assets it represents. This hotel has a real opportunity to significantly increase its share of corporate, meetings and leisure business in Sydney's west, and Holiday Inn is the best brand to help us realise that potential," Yesh said.