Check out the new 5-star Peppers Docklands Melbourne.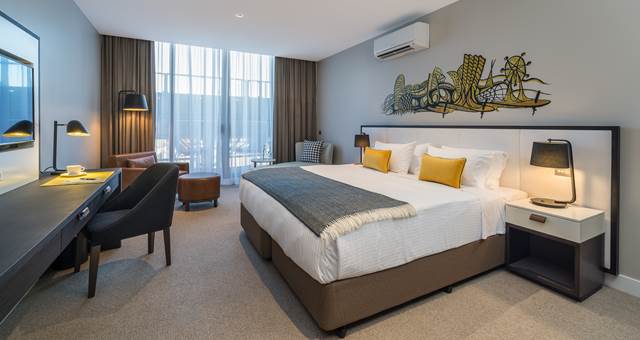 Check out the new 5-star Peppers Docklands Melbourne.
The prototype hotel room is the first glimpse of what future guests can expect at the M Docklands project.
The AUD$140 million, 19-level development will feature a five-star Peppers Docklands hotel operated by Mantra Group under its luxury Peppers brand, offering 87 stylish hotel suites, plus 186 residential apartments and 11 retail shops.
Mantra Group CEO Bob East said Peppers Docklands will prove popular both with the domestic market and with Australia's growing inbound tourism market.
"The Docklands is in need of a sophisticated hotel product to cater to an increasingly selective global market that is looking for quality, location and facilities of a world class calibre. Peppers Docklands has this, and will set a benchmark for future mixed-use developments in Australia," he said.
"We are excited that next year visitors will be able to stay in premium rooms like the one we launched today – boosting the local economy and enhancing the Docklands new-found charm."
Peppers Docklands will be the first Peppers hotel to open in Melbourne for Mantra Group, joining 10 Mantra apartment hotels in Melbourne CBD and the airport.
The hotel is slated to open in early 2016.