Australian Prime Minister, Tony Abbott, has officially opened the TFE- and NRMA-owned Hotel Kurrajong in Canberra.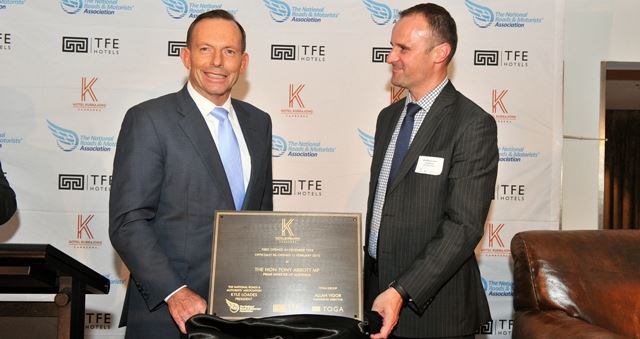 Prime Minister Tony Abbott with NRMA CEO Tony Stuart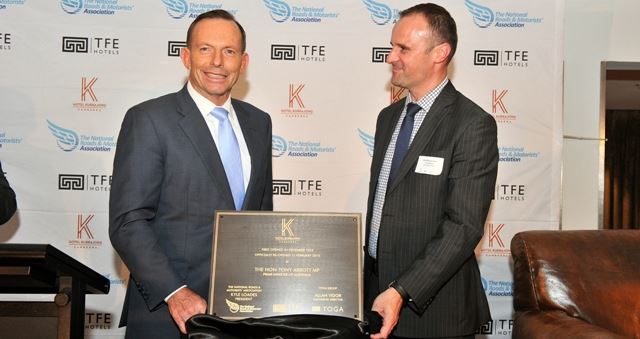 Tony Abbott with NRMA CEO Tony Stuart
Australian Prime Minister, Tony Abbott, has officially opened the TFE- and NRMA-owned Hotel Kurrajong in Canberra.
The opening last Wednesday night (Feb 11) was just two days after the Prime Minister avoided being dumped as the leader of the Liberal Party and was a major coup for TFE and NRMA, with Abbott becoming the PM to open a hotel in Australia in years.
While the Prime Minister's official residence, The Lodge, is being renovated, he is staying at Australian Federal Police training college and when asked on the night whether he would follow in the footsteps of former Labor Prime Minister Ben Chifley and move into the Hotel Kurrajong, he jokingly said, "I am not sure whether the current budget would run to it".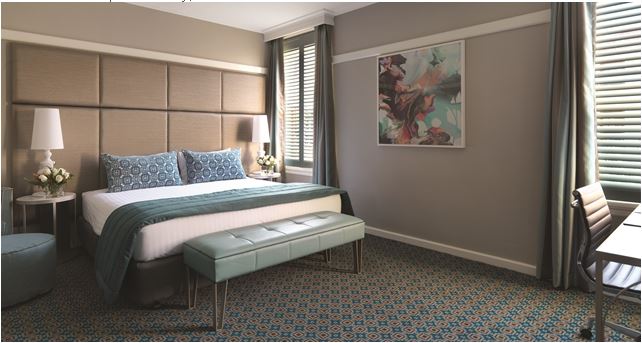 The Hotel Kurrajong, that originally opened in 1927 and was most recently run as a hotel by Laureate's Australian International Hotel School, has a colourful history and is well known in the capital for being PM Chifley's home from 1945-49, who stayed here instead of The Lodge in an effort to cut costs.
Hotel Kurrajong is also one of Canberra's architectural landmarks. The building was constructed from 1925 to 1927 and was built to accommodate public servants in preparation for the relocation of parliament from Melbourne.
It was designed by Commonwealth chief architect John Smith Murdoch, also responsible for Old Parliament House in Canberra, and was done in keeping with Walter Burley Griffin's concept of a 'garden city'.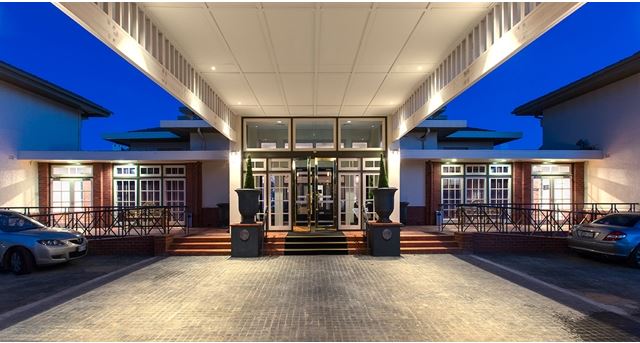 NRMA CEO, Tony Stuart, said the property was originally planned to be a Travelodge when the hotel was purchased at auction in 2013, however, a decision was soon made to fully restore the hotel with a distinct art deco theme.
TFE Hotels CEO Rachel Argaman said, "We are very excited to be reopening the doors of this sophisticated and historic hotel with ties to key Australian political and architectural figures.
"TFE Hotels is particularly respectful when working with heritage buildings and our aim is to keep the essence of the hotel while creating a modern, comfortable stay for our guests, offering premium service whilst steeped in history," she said.
Argaman said the iconic hotel underwent a significant renovation to "ensure it retains many of its historic architectural features including pavilions, deep verandas and courtyards".
The hotel has 147 rooms, 26 of which are located in the heritage wing, alongside four executive suites, four balcony rooms and eight terrace rooms.
Other key heritage elements include a cosy fireplace, library full of historic literature and the collages of photographs from different periods along the hotel's hallways.
Hotel Kurrajong is also home to Chifley's Bar and Grill, helmed by award-winning hatted chef Michael Chatto, who has created a menu loaded up with local produce, hand selected meats and more than 120 local and international wines.
Chifley's also features a stand-alone steak menu where customers can choose from 18 different cuts including David Blackmore Wagyu and Cape Grim Black Angus, each listed with its weight, origin and marble scores.