Canberra's heritage Hotel Kurrajong recently hosted a relaunch under two recently appointed joint-managers to celebrate its past and adopt a new business focus on events and functions
By Gwen O'Toole
Canberra's heritage Hotel Kurrajong recently hosted a relaunch under two recently appointed joint-managers to celebrate its past and adopt a new business focus on events and functions. The Hotel Kurrajong will continue operating as a boutique heritage hotel but will now be catering primarily to corporate and government clients in an effort to grow its business meetings and corporate functions as well as private events and weddings.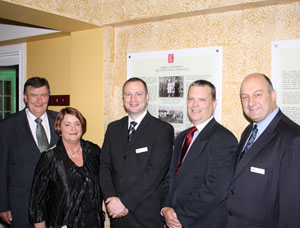 Hotel Kurrajong's co-manager Peter and Lyn Hale, Australian International Hotel School's Steve Tucker, Capital Country Toursim's Peter Bascombe and CEO of the BMIHMS Guy Bentley.
The event, hosted by managers Peter and Lyn Halebrough together 140 guests from the industry, the Australian International Hotel School (AIHS) and its sister school, the Blue Mountains International Hotel Management School (BMIHMS).
Chairman of Capital Country Tourism, Peter Bascomb welcomed attendees to view four new interpretive history panels in the lobby detailing the origins and early years of the hotel, life in the 1930s and 1940s under manageress Isabella Southwell, the close links to the Australian Labor Party and the hotel's most famous resident Ben Chifley, and its new incarnation as part of the AIHS. These panels were developed with the kind cooperation of the Canberra and District Historical Society.

The Hotel Kurrajong also serves as a 'hands-on' training facility for the students at the AIHS.The new focus ensures that the Hotel reflects the curriculum of the two new AIHS programs introduced in 2009: a Bachelor of Business (International Hotel Management) and a Bachelor of Business (International Event Management).
For more information on the Hotel click here.