Guests are set to return to an era of old-world charm and elegance when the historic Hotel Kurrajong Canberra reopens its doors on December 16, 2014.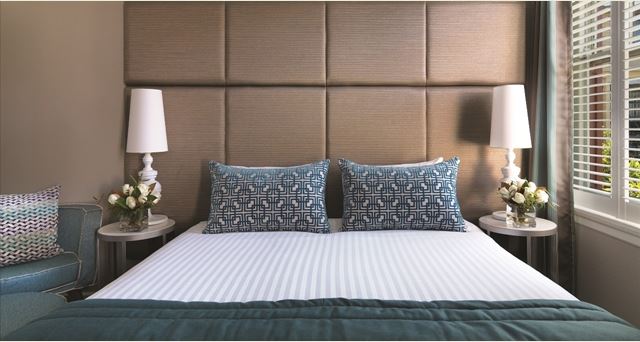 Guests are set to return to an era of old-world charm and elegance when the historic Hotel Kurrajong Canberra reopens its doors on December 16, 2014.
Nestled among trees between Lake Burley Griffin and Capital Hill, the heritage-listed hotel that originally opened in 1926 is in Canberra's parliamentary district, operated as a boarding house and more recently, a hotel school.
In a joint venture between TFE Hotels and the National Roads and Motorist's Association (NRMA), the pavilion-style hotel has been fully restored with a distinct art deco theme, ahead of its reopening this month.
NRMA CEO, Tony Stuart, said the history behind the famed Hotel Kurrajong Canberra married well with the NRMA's proud history in Canberra as Australia's largest mutual organisation.
Originally constructed as one of two hotels of equal walking distance from Old Parliament House, Hotel Kurrajong is part of the fabric of Australia's political capital. It is most famous as post World War Two Prime Minister Ben Chifley's home in Canberra; he preferred the comfortable, down-to-earth hotel to the Australian PM's official residence, The Lodge.
The restored Hotel Kurrajong has old world charm with a stylish and contemporary twist. Guests will be struck by the 1920's-inspired decor and hospitality from the moment they arrive. The cosy fireplace, the Library that is full of historic literature and the collages of photographs from different periods along the hallways give guests a sense of the hotel's history.
Hotel Kurrajong offers a premium dining experience at Chifley's Bar and Grill, a quality-driven steakhouse and bar with the award winning hatted chef Michael Chatto at the helm. Chatto has created a delicious menu with the use of fresh local produce, hand selected meats and more than 120 local and international wines. With a strong focus on premium beef, Chifley's features a stand-alone steak menu, where customers can choose from 18 different cuts including David Blackmore Wagyu and Cape Grim Black Angus, each listed with its weight, origin and marble scores.
Chatto and his team will take inspiration from the 1920s to create a unique experience for diners. Guests will be able to select cuts from the window to The Back Bench, a meat ageing room on display in the dining room, which spreads into a glassed-in terrace overlooking the hotel gardens.
Chatto's influence on the hotel extends to the guest rooms, each with a minibar stocked with Hotel Kurrajong's own ginger beer brewed on-site, almonds smoked and biltong cured in the hotel kitchen.
Rachel Argaman, CEO of TFE Hotels, said, "We are very excited to be reopening the doors of this sophisticated and historic hotel with ties to key Australian political and architectural figures.
"TFE Hotels is particularly respectful when working with heritage buildings and our aim is to keep the essence of the hotel while creating a modern, comfortable stay for our guests, offering premium service whilst steeped in history," she said.
The iconic hotel underwent a significant renovation to ensure it retains many of its historic architectural features including pavilions, deep verandas and courtyards. Andrew Parr of SJB Interior Design is the man behind the new sophisticated refurbished interior. "With Hotel Kurrajong Canberra, we have remained true to the era and existing architecture of the building and selected design elements that offer a historical context with a sophisticated 21st century twist," Parr said.
"We see style and luxury combine effortlessly with the hotel's distinct architectural history to bring a refined sense of glamour and elegance," he said.
The hotel's sophisticated design and chic furnishings also pay homage to its notable origins and design by the Commonwealth's Chief Architect John Smith Murdoch in 1926;who was also responsible for the design of Old Parliament House.
The hotel comprises of 147 rooms, 26 of which are located in the heritage wing, four executive suites, four balcony rooms and eight terrace rooms. The hotel's charming garden setting is keeping most of his original plantings that were established by Thomas Charles Weston, then the Superintendent of Parks and Gardens in Canberra.