Asia Pacific's largest creative industries festival kicks off at ICC Sydney.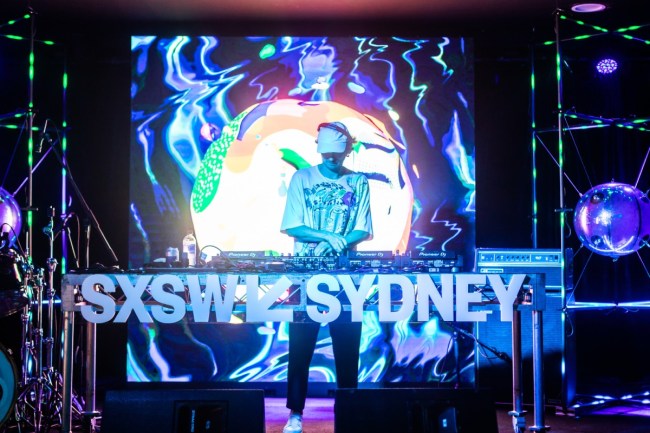 A DJ at SXSW Sydney. Photo: Jordan Kirk
The Asia Pacific region's largest innovation, culture, gaming, music and screen event has launched at International Convention Centre Sydney (ICC Sydney).
As the anchor venue for the inaugural South by Southwest (SXSW) Sydney to be held from 15-22 October 2023, ICC Sydney is home to the SXSW Sydney Conference, featuring over 400 presentations, panels, workshops and mentor sessions with inspiring thinkers and transformative leaders across multiple content pillars.
Since its inception in 1987, SXSW has been held in Austin, Texas and has been a convergence of film, music, education, and culture, a global destination for creative people to connect, collaborate and think outside the box.
Keynote presentations will feature speakers Nicole Kidman, Chance The Rapper, AI expert Amy Webb, Black Mirror creator Charlie Brooker and games luminaries Amy and Mike Morhaime.
The SXSW Sydney Tech & Innovation Expo will showcase innovative and emerging tech, entertainment and games companies from across the Asia Pacific region, alongside the SXSW Sydney Pitch competition for startups and the SXSW Sydney Games Festival.
NSW Tourism Minister, John Graham, said the event is straight from Austin, Texas and Sydney will be the centre of the music, screen, gaming and tech world as locals and visitors enjoy the inaugural SXSW Sydney.
"I'm very pleased that people attending SXSW will have the chance to see Sydney at its best after dark, soaking up music, ideas, and culture," he said.
"SXSW Sydney will be a game-changing event for NSW.
"It is just the beginning of an unrivalled cultural events calendar over the coming months showcasing Sydney's local talent, creativity, culture and natural beauty that draws people in from across the country and around the world."
The SXSW Sydney Screen Festival's program of film, TV, digital, XR and social content showcases screen culture's diversity in the Asia Pacific and beyond within ICC Sydney's iconic Darling Harbour Theatre.
ICC Sydney CEO, Geoff Donaghy, said SXSW Sydney is an unmissable event at the venue that will build Sydney's cultural capital.
 "We are thrilled to welcome SXSW Sydney to ICC Sydney and kick start the pivotal event that brings together thousands of film, culture, innovation and gaming enthusiasts from around the world to our powerhouse destination," he said.
"Delivering extraordinary experiences for the diversity of SXSW Sydney visitors is just the beginning and we look forward to activating our Legacy Program's Creative Industries stream as we connect attendees to Australia's emerging and established creative talent."