Flight Centre's 4500-strong Global Gathering is heading to Brisbane in 2020.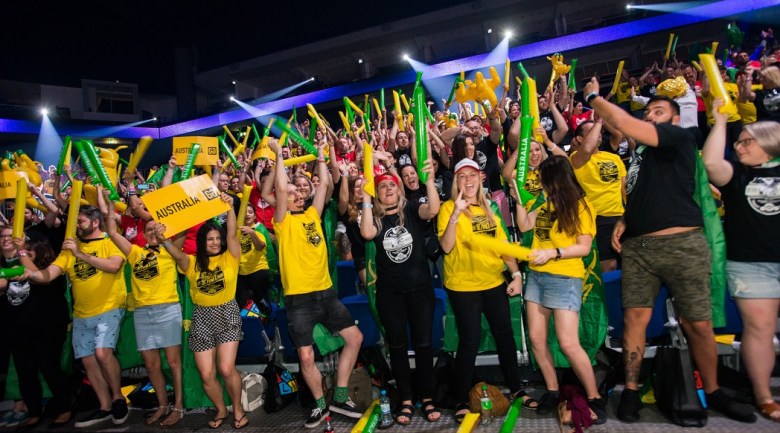 Global Gathering 2018
Brisbane has been chosen as the host city for Flight Centre Travel Group's highly anticipated conference, Global Gathering, in 2020.
The annual event has just wrapped up in Las Vegas where thousands of travel consultants flew from all corners of the globe to attend one of the world's largest travel industry conferences.
At the conclusion of the 2019 iteration, it was announced the event will head to Flight Centre's global headquarters for the first time next year.
"The Global Gathering is the most important conference on our annual calendar and is a keenly anticipated event for our 20,000 people throughout the world," Flight Centre Travel Group managing director Graham Turner.
"Brisbane is our global headquarters, so it's fitting that we bring our people to the city to take part in this important event and to sample South-East Queensland's world class features and attractions.
"The overwhelming majority of the delegates will be travel consultants and they will gain first-hand experience of these features and attractions and will then share that knowledge with their customers, opening the door to further tourism benefits long into the future."
Check out some of the Instagram highlights from Global Gathering 2019:
Last held in Australia in 2001, Global Gathering is sponsored by some of the world's leading airlines and tour companies.
Keynote speakers at previous gatherings have included former United States president Bill Clinton, Andre Agassi, Michael J Fox and Gwyneth Paltrow.
Mark Wahlberg was among the line-up at this year's event.
Global Gathering 2020
Taking place from 10-12 July, the event will welcome up to 4500 delegates and is expected to generate $7 million for the local economy.
Tourism Industry Development Minister Kate Jones said securing the conference was reflective of Brisbane's reputation as a travel destination on the global stage.
"We bid for events like this because they help to grow our tourism industry and create jobs in Queensland," she said.
"The fact that we've been able to secure one of the industry's largest global conferences for Brisbane proves that our reputation as a world-class destination for events continues to improve."
The incentive event was secured by Tourism and Events Queensland and Brisbane Marketing.
More highlights from Global Gathering 2019, just to make us all jealous: