The Brisbane Convention & Exhibition Centre (BCEC) now offers green-minded organisations the option of using a carbon calculator to assist in creating a carbon-neutral event
By Gwen O'Toole
The Brisbane Convention & Exhibition Centre (BCEC) now offers green-minded organisations the option of using a carbon calculator to assist in creating a carbon-neutral event.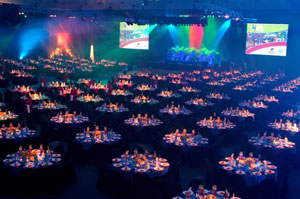 Events held at the BCEC can now be carbon-neutral
Furthering the Centre's commitments to sustainable business practices, the venue commissioned the Carbon Reduction Institute (CRI) to construct a greenhouse gas emissions calculator measuring the environmental impacts of events held at the Centre.
The BCEC has achieved international Green Globe benchmarking standards for its sustainability practices and the goal of the toll is to provide a carbon footprint from the hosting of each event.
Organiser's wishing to use the calculator can do so in consultation with a sales or event planning manager from the BCEC. The venue is the first Australian convention centre to use this tool and it is applicable to all events.
For more information on using the calculator click here.
For more information on the Brisbane Convention Centre's sustainability initiatives, click here.

What are you're thoughts on carbon neutral events? Email us your opinion.