One of the key presentations at the upcoming Event Summit looks at how Sold Out Events delivered multiple activation programs for sponsors and rights holders at the 2018 Commonwealth Games.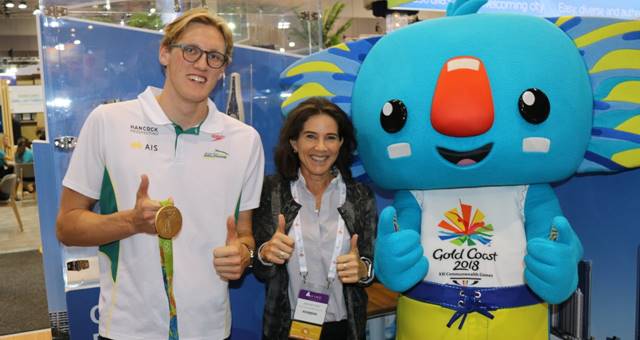 Rio 2016 Olympic gold medallist Mack Horton, Jan Hutton - chief marketing officer - Gold Coast Tourism and Borobi - the surfing koala - official mascot for the Gold Coast 2018 Commonwealth Games.jpg
One of the key presentations at the upcoming Event Summit (14 June, Sydney) looks at how Sold Out Events, the Official Event Management Company of the Gold Coast 2018 Commonwealth Games, delivered multiple activation programs for sponsors and rights holders at this year's event.
The Games was the largest event to be staged in Australia this decade and welcomed more than 6,600 athletes and team officials from 71 nations and territories to Queensland. Taking place onsite at multiple venues and event locations were sponsor and brand activations which enhanced the event experience for those attending.
Drawing on their experience of delivering on six international multisport games including Sydney Olympic Games, Salt Lake City Olympic Games, Beijing Olympic Games, Melbourne Commonwealth Games and the Manchester Commonwealth Games, Sold Out Events was responsible for delivering the sponsor and activation programs for half of the official partners at GC2018.
Sold Out Events' CEO Thomas B. Staunton will share his experiences and learnings from developing and executing these programs for Games partners Longines, Optus, Aggreko, TAFE Queensland and Elastoplast.
During the 11 action-packed days of competition, the Sold Out Events' team was onsite at numerous locations simultaneously throughout Queensland and produced innovative and cutting-edge activations and activities that included:
Sporting themed activities and photo opportunities.
'Chill-out' zones and big screen installations.
Guest transfers and travel services for VIP guests.
Corporate hospitality suite fit-out and host services.
Showcasing displays.
Signage and 'look and feel' elements for activation sites
Merchandise and giveaways for sponsor activations.
Activation staffing and logistics.
The presentation will explore exactly what is involved in delivering sponsor programs for one of the world's largest sporting events and answer five key questions.
How did Sold Out Events:
meet sponsor needs during the planning phase?
maintain consistency when executing activations across multiple sites for individual sponsors?
meet and exceed sponsor expectations?
deliver sponsor programs while managing the needs and standards set out by the organising committee?
manage the complexity of regulations and protocols, approvals and various stakeholders to deliver sponsor programs?
The Event Summit, presented by Safety Culture, and held on 14 June is apart of the Vivid ideas exchange program. Learn more about the event here or click here to download the event program.