The possibilities are limitless for event planners - fresh talent, revitalised performances and extra value.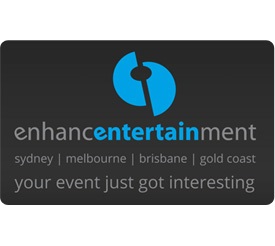 Limitless Possibilities
They've upped the ante at Enhance Entertainment. All through 2014 the team have pledged to release a whole new range of talent, speakers, celebrities and performances. Plus they will be working extra hard for you, doing whatever it takes to elevate your  event to be the success it deserves.
Not only do you receive the superior service with an assembly of talent you won't find elsewhere, now there's no limit to the possibilities at your conferences and events.
Don't delay, call Enhance Entertainment on 1300 884 485 or contact us today.
View the limitless options at Enhance.
ABOUT ENHANCE
Trusted by over 500 companies Australia-wide, Enhance Entertainment is in the business of talent. They provide Australia's corporate sector with select keynote speakers, comedians, entertainers and MCs for events in all their forms.
Enhance holds over 1000 forms of entertainment, from international headliners and celebrities, to live bands and stage acts, energizing and inspirational Olympic athletes, and business keynote speakers and entrepreneurs. With additional talent fresh from hit TV shows including MasterChef, Australia's Got Talent, X Factor, Australian Idol and The Voice, Enhance Entertainment holds the resources to give any event a serious wow factor.
Phone: 1300 884 485
International: +61 2 9518 3944
Fax: +61 2 9569 0297
Web: enhancentertainment.com.au
Email: info@enhancentertainment.com.au
Head Office: Suite 4, 481-483 Parramatta Road Leichhardt NSW