Do you want to get your event online? Do you need a high impact video created? Do you need to reach a wider audience? We have you covered.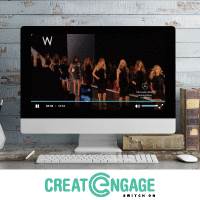 Create Engage are dedicated to the delivery of flawless digital events. With over 25 years of collective experience in live events and streaming, Create Engage is a boutique team of event professionals specialising in providing online event and production solutions. We have successfully executed numerous online campaigns and digitally produced events for our clients.
Our services will enhance your event by increasing engagement, audience reach and awareness of branded content. We aim to assist in extending your live event to reach beyond the guests in the room. Through services such as:
Webcasting
Live Streaming
Video Production
Social Engagement Tools
Event Content Marketing
Event Photography
Motion Graphics & Animation
iBeacon Technology
Benefits of going Digital:
Expand Your Audience
Increase Viewer Engagement
Lead Generation
Cost Effective
Reduce Travel & Accommodation Costs
Social Media Interaction
Additional Revenue Stream
Monetise Content
Video Analytics
Stay Current
Digital Event Specialists – You don't go the GP to have a heart transplant do you? The same rule applies to the specialised art of Digital Events.
We will help you CREATE content that will ENGAGE your viewers which will increase brand loyalty, customer retention and make you a thought leader in your industry. We love digital technology and we love events and believe every business needs to SWITCH ON and get their branded content online and digitised.
Switch On today and contact the team at Create Engage your Digital Events Specialists.
Push Me 
T: 02 8541 4444
W: http://createengage.com.au/events-uncovered/