Soak up Melbourne's best ocean vistas and celebrate the end of the year in style at Port Melbourne Yacht Club.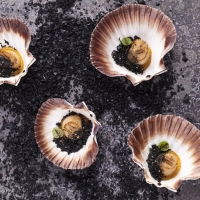 When the temperature rises, there's no better place to be than by the sea. Port Melbourne Yacht Club gets you bayside with Melbourne's best ocean vistas and is an incredible spot to celebrate the end of the year in style.
Sailboats line the driveway leading you towards the architecturally striking venue that resembles rolling ocean waves. From this moment on, you and your guests will sense the freedom and fun that lies behind the impressive exterior.
Step inside to be greeted by smiling staff, chilled champagne and uninterrupted harbour views from floor to ceiling windows. This large modern dining space can host a sit down banquet up to 186 people or a stand up cocktail party for 250. Add a dancefloor and cocktail bar to get the party started. If a more formal event is on the agenda, this space is an inspiring option to ignite the imagination for your end of year board meeting or presentation too.
On the menu, expect an abundance of locally sourced, quality seasonal produce seasoned and styled to perfection. Peter Rowland Group Executive Chef Matty Haigh says "It's all about delivering refinement and elegance by bringing out the foods natural flavours rather than over-complicating it. I want our food to create lingering memories."
And when the food and formalities fade, step out onto the sprawling wooden deck to soak up the long summer evening. With the fresh ocean breeze on your face, cocktail in hand, and new memories on the horizon, the Port Melbourne Yacht Club is sure to leave a lasting impression for your end of year function.
Backed by over 50 years' experience throwing some of Melbourne's best parties, our events team are here to share their expertise to make your event a seamless, fun, and memorable experience. After all, "Peter likes to party". We look forward to collaborating with you on your end of year function.
Contact:
P 03 9825 0000
Instagram & Facebook @peterrowlandau #peterlikestoparty