Discover a better way to do business at Crowne Plaza Terrigal. It's the perfect time to take advantage of the beautiful landscapes while escaping the city. We're all business, mostly.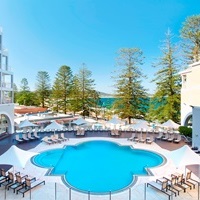 Leave the boardroom behind.
When it comes time to plan your next big event, think outside the city. A coastal destination can provide a fresh location for fresh ideas.  Just 90 minutes north of Sydney, Crowne Plaza Terrigal is close enough to Sydney for a quick getaway yet far enough to get away from it all.
Run your next brainstorm on the sand allowing the sound of seagulls calling and waves crashing to motivate and inspire.  Book a professionally run team building activity or just let the beach be your boardroom for the day and see what great ideas unfold.
Catch up on emails from your balcony overlooking Terrigal Beach, The Haven or the iconic outdoor pool as each of our 199 accommodation rooms feature a private balcony. With a location and view like this, working hard often seems like you're hardly working.
Why not create the ultimate impact with private use of the hotel? This unique offering from Crowne Plaza Terrigal includes 100% exclusive use of the whole hotel. Rooms, conference facilities, pool areas, bars, staff, gym, kitchen, carpark… the lot.  Imagine the possibilities when you re-think the way spaces are used. Team building exercises in the kitchen? Or maybe seminars by the pool? We can guarantee your privacy as we close the hotel off to all other guests for the duration of your event.
Situated on Terrigal Beach, your delegates will experience the very best of the Central Coast with the opportunity to enjoy a drink in one of our 3 ocean-view restaurants or bars and some downtime by the pool, on the beach or in Terrigal village.
Choose from 13 versatile indoor and outdoor spaces, accommodating every event from a conference with 450 delegates to a small team seminar. Let our incredible team help you plan and execute your vision to perfection.
BOOK YOUR NEXT MEETING TODAY AT CROWNE PLAZA TERRIGAL.
Call our Crowne Meetings Team on +612 4384 9111 or email meetings.terrigal@ihg.com
Crowne Plaza Terrigal
Pinetree Lane, Terrigal NSW
www.crowneplazaterrigal.com.au
Facebook @crowneplazaterrigal
Instagram @crowneplazaterrigal