Take your next Business Events to new heights with a black marquee that is sure to leave a lasting impression!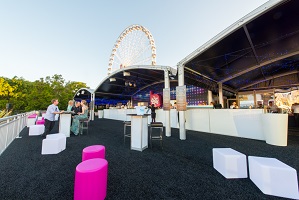 When seeking a unique space for your next event, Moreton Hire's new Black Marquee may be the ideal solution; particularly for organisers looking for something different.
With a refreshing new take on the traditional marquee and its unique versatility, the Black Marquee is a great option that can offer an impression of elegance, sophistication, innovation and a touch of mystery for whatever purpose or event you require.
Available anywhere in Australia, Moreton Hire said the structure offers a seamless front with a curved roof for the ultimate in opulence and impact. The structure itself is modular in design with a ten metre profile, meaning it is available as small or large as you need.
Ideal for Gala Dinners, Pop up Shops, Product Launches, Major Events and Brand Activations, it is an ideal option for a unique and stylish environment, that is certain to provide that "wow" factor you are looking for.
So in considering a unique venue for your next event, consider The Black Marquee as a striking structure is sure to guarantee a lasting impression with your guests, as there is one certainty – everybody loves events-in-tents!
As national suppliers and market leaders with over 45 years' experience, Moreton Hire has Australia's largest, most expansive and diverse range of Business and Special Event products and services.