Exhibitions Expo Melbourne – September 2015 The Exhibitions Expo is a great opportunity to see businesses in exhibition, trade show and event organisation display goods and services in the events industry.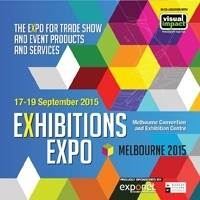 Exhibitors will be from all areas of event management including registration software, signage, stand design and creation, venues, equipment hire, security and trade services. It will be the fastest and most cost efficient method for networking, make new connections and building your supplier base for your event portfolio.
A professional seminar program will be run across the show dates with industry speakers sharing their knowledge about topics such as event planning, budgeting, logistics, creative thinking, social media and workplace health and safety.
The Exhibitions Expo will take place in Hall 1 of the Melbourne Convention and Exhibition Centre from September 17 – 19, 2015. Exhibitors and Sponsors are now welcome to submit their details to secure their place at the Exhibition Expo, the expo for trade show and event products and services.
The Exhibitions Expo is co-locating with Visual Impact 2015. This event is by Visual Industries Supplier Association, a non-profit organization working to provide a cost effective and professional marketing service for industry and related suppliers and consumers.
Find out more about sponsorships, exhibiting or attending by visiting: www.visualimpact.org.au/exhibition_expo_melbourne_2015
Or contact us:
Visual Impact
Phone: (02) 9868 1577
Email: viexhibitions@visa.org.au