The venue has successfully delivered more than 156 hybrid or virtual events over the past year.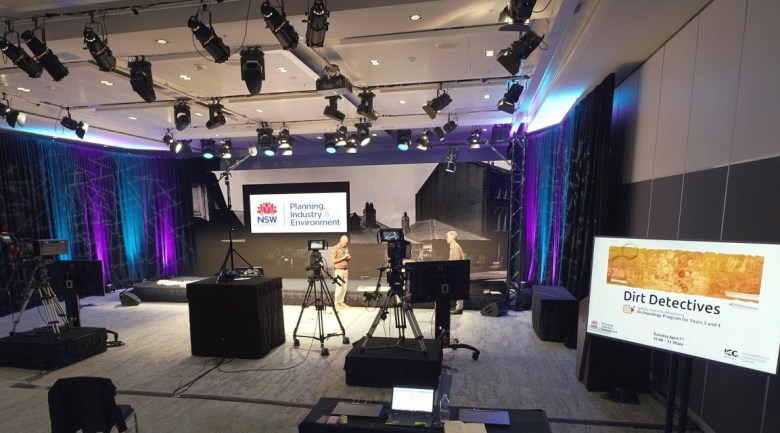 Inside ICC Sydney Studios
As lockdown continues, Sydney's International Convention Centre (ICC Sydney) shows no sign of slowing down with its virtual events offering.
The venue successfully delivered a further three virtual events last week, bringing its total number of hybrid or virtual events over the past year to 156.
Having recently expanded its virtual event and broadcast spaces in order to meet the needs of events organisers, ICC Sydney's purpose-built ICC Sydney Studios consist of three virtual event spaces, complete with state-of-the-art digital solutions, including the fully customisable event platform ICC Sydney Connect.
Given the challenging circumstances, ICC Sydney director of audio-visual services Brian Nash said the venue is proud to have been able to expand its offering to include an expansive audio-visual product suite to help support a range of clients.
"Supporting event organisers to deliver essential, flexible and high-quality hybrid and virtual event solutions has been central to our service over the last year," Nash said.
"Staying open, flexible and agile has ensured clients who need to progress with their events online are able to do so."
Last week's three events were Connect Media's Healthcare Leaders Forum, Landcare Australia's National Landcare Conference and The Law Society of New South Wales' Specialist Accreditation Conference.
Over the last year, Connect Media has selected ICC Sydney for 12 events, eight of which were presented virtually via the ICC Sydney Connect customisable platform.
Connect Media's Operations Manager, Bridee Arrighi, said ICC Sydney's ample venue space, experienced on-site audio-visual operators and technological capability, consistently provided a safe and seamless solution for their events.
"Through the ICC Sydney Connect platform, we've been able to brand the event, list partners and link out to relevant websites," Arrighi said.
"Our delegates and speakers have once again loved the accessibility and interactive presentation of the program within this interface."