Our latest edition is out now, jam-packed with ideas and inspiration.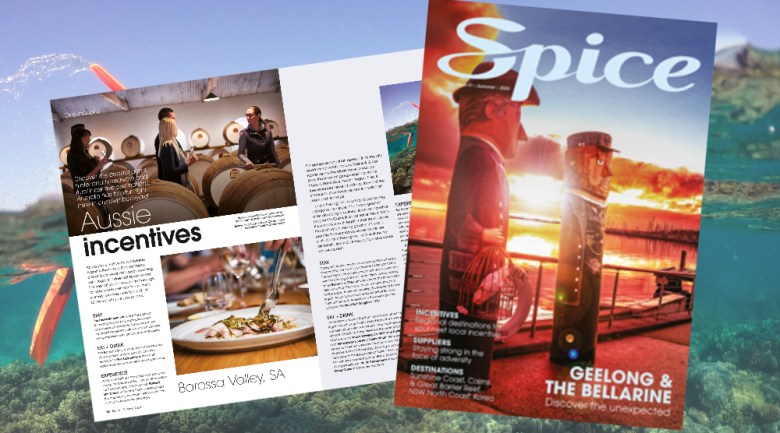 As we enter the final weeks of 2020, there are positive signs that business events industry is recovering. We're beginning to see more in-person business events, be it conferences, awards nights or incentives, getting underway all over the country. There's also a wave of new hybrid events popping up, as organisers work within gathering restrictions and travel limitations while allowing some face-to- face interaction to go ahead.
At Spice Magazine, we hosted our own hybrid event back in September, which received overwhelmingly positive feedback from both in-person and virtual attendees – of which there were about 900 throughout the day. You can read about the boutique exhibition and conference program on page 10. Planning is already underway for Events Uncovered 2021, so mark your calendars for 15 July.
With international borders still closed, event organisers are naturally using it as an opportunity to stay local for their 2021 business events. Luckily Australia has no shortage of spectacular destinations.
As part of our annual incentives edition, from page 28 we're taking you to some of the best spots in the country, from coastal gems to outback adventures, to give all the inspiration you need to plan a memorable incentive program for the year ahead.
Also in this issue, Robyn Johnson pens a final column for Spice Magazine before she departs her role as CEO at Meetings & Events Australia, where she calls for a united voice for business events. We also check in with event suppliers to hear how they're adapting and moving forward, and showcase venues across the country that are ready to host COVID-safe events.
Don't miss our cover story on Geelong & The Bellarine, a destination that will surprise and delight even the most well-travelled corporate teams and , and discover the delicious experiences on offer on the NSW North Coast.
Read the full issue below or subscribe to receive future print issues here.