Anthony Bastic shares the inspiration, planning and challenges that come with running the annual event.
Now in its ninth year, The Lights Of Christmas is again illuminating St Mary's Cathedral in Sydney in the lead up to Christmas.
Behind the spectacular light show is Anthony Bastic, CEO and creative director at AGB Events, who was inspired to create a new Christmas tradition for the people of Sydney.
Bastic recalls the joy of seeing the Christmas displays in shop windows throughout the city as a child.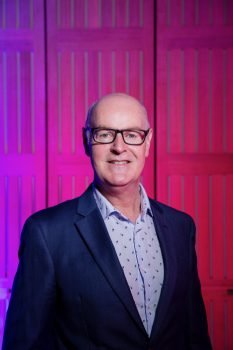 "When I was a kid, my parents would take me along to see the Christmas windows," he says. "But I noticed that there are fewer shop windows now."
The Lights Of Christmas aims to bring people together in a shared experience, similar to the shop windows of Bastic's childhood.
"What I wanted to do was create a tradition for families but also for people that are in Sydney on work or they've just relocated here," he says.
"What this allows them to do is come and celebrate together. Whether you're speaking to people next to you or not is irrelevant, because you're able to have the same experience as the person next to you for free in a public space."
PLANNING
Planning for an event as large-scale as The Lights Of Christmas is crucial, and it begins as soon as the previous event has finished.
"I like to start straight away to begin [developing] the storyline," says Bastic.
"There's different strands; there's a production strand that work on the infrastructure and the approval process from the different government authorities, then I work with the creative team on developing the content."
This year, AGB Events worked with Simon Pryce, who you might know as the red Wiggle, to develop the storyline that is portrayed through the light show.
"This year our theme is 'A Time to Give' and the message is that it is better to give than to receive around Christmas time," says Bastic.
TECHNOLOGY
Technology has evolved significantly in the almost 10 years that The Lights Of Christmas has been running.
Digital projectors have advanced from only showing still images to now displaing moving images in extremely high resolution.
"It's like watching a proper screen but we have this 150-year-old sandstone building to project on to," says Bastic.
"It's allowed the animators free range to use the building as a canvas to bring to life."
CHALLENGES
Bastic says the biggest challenge for a public event such as this is raising funds to make it viable.
"It's a free public event and public events are very expensive to run," he says.
Alongside projection costs, other elements like security, staffing and infrastructure costs all need to be taken into account.
"That's always my biggest challenge every year but we've got some great partners, such as Paynter Dixon this year."
IMMERSIVE EXPERIENCES
In addition to the annual Lights Of Christmas, AGB Events are also behind a number of other corporate and public events.
Bastic says lighting and projection technology has become a must-have for creating immersive events for clients.
"It's the age that we're living in, there's an expectation [for it]," he says. "The challenge, for myself and my team, is to ensure that we keep up to with advancements in technology and the trick is how to use those advancements and create an immersive experience for people."
The Lights Of Christmas is on every night at St Mary's Cathedral in Sydney from now until 25 December 2018.