Rekorderlig Cider partnered up with Dark Mofo for the opening of the festival held in Tasmania's Museum of Old and New Art
Rekorderlig Cider partnered up with Dark Mofo for the opening of the festival held in Tasmania's Museum of Old and New Art (MONA)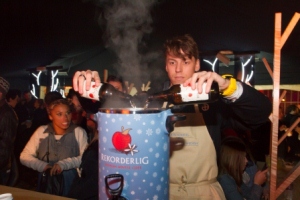 The opening weekend kicked off with chilly Tasmanian evenings and warming up with a glass of Winter Cider served mulled-wine style, encouraging cider lovers to relish in Rekorderlig's 'Beautifully Swedish' way of life.
With the bar situated in between MAC 1 and MAC 2, the Rekorderlig Winter Forest was the perfect go-between for visitors who wanted to experience the artistic extravagance, such as Ryoji Ikeda's SPECTRA and Daniel Boyd's 100 Million Nights, and for the music lovers who were entertained by epic sets from Australian artists The Presets, Hermitude and DZ Deathrays.
Sydney-based artist, Sam Mitchell-Fin, partnered up with Rekorderlig Cider to create a spectacular light installation, using wood, neon lighting and perspex. In keeping with the Dark Mofo themes, Sam created a unique piece of art that was a twist on the 'Beautifully Swedish' Rekorderlig Winter Forrest and a reflection of the beauty and light that can be seen despite the winter's darkness.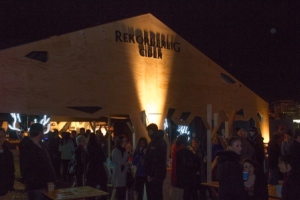 Produced by MONA, the Dark Mofo Festival celebrated the winter solstice and highlighting the seasonal beauty of Hobart.
The core festival activity is based around Hobart's waterfront, Macquarie Wharf, the Regatta Grounds and Princess Wharf at Salamanca, with satellite events taking place across for other venues throughout Hobart attracting locals and visitors alike. Beautifully Swedish Rekorderlig Cider's presence throughout Dark Mofo will entice consumers to sample their delicious flavour portfolio, a range that appeals both men and women alike.
MONA's new major exhibition, The Red Queen, underpined the entire festival and opened during Dark Mofo at a MONA till Midnight event on June 18, 2013, continuing until April 21, 2014. Now served at MONA, participants will have the opportunity to enjoy a Rekorderlig Cider after viewing the intriguing exhibition.
"We are delighted to be associated with MONA whose ability to innovate & create the extraordinary makes it a great fit for Rekorderlig Cider. Our Rekorderlig Cider bar combines the light, sound and fire of the festival theme all wrapped up in a Swedish Winter Forest to create a unique experience for consumers to discover our range of flavours and indulge in our Winter Cider which uses a blend of fresh apples, infused with vanilla and cinnamon spice and is being served warm like mulled wine," says Nikki Langford, marketing manager for Rekorderlig Cider.
The inaugural Dark Mofo is the Museum of Old and New Art's first winter festival, celebrating the dark through large-scale public art, food, music, light and noise, featuring a range of music and art performances, exhibitions, installations and events set within the heart of Tasmania.