Great Southern E-vents (GSE) recently hosted a twilight garden party showcasing new and upcoming trends for the Austrlaian events industry.
By Gwen O'Toole
Great Southern E-vents
(GSE) recently hosted a twilight garden party showcasing new and upcoming trends for the Australian events industry.
The event was held at the Sydney Botanical Garden's Lion Gate Lodge, with the outdoor venue themed to reflect the current trend for 'intimate settings' and 'natural concepts'. Props included hundreds of small colourful butterflies and a leisurely game of croquet took place on the grounds.
Catering was provided by Belinda Franks Catering and involved a variety of food stations to engage guests.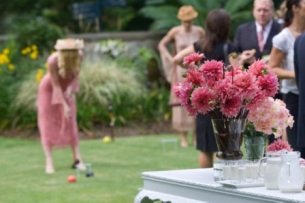 Great Southern E-vents Garden Twilight Party featured
butterflies, flowers and croquet.
Guests were addressed by GSE managing director, Jeremy Garling, who disclosed the results of the company's latest event trends survey.
"GSE event trends were inspired by feedback from within the industry that [showed] people were keen to know what the hottest event designs and directions were going to be in 2009/2010," he said.
Entertainment trends, Garling added, were returning to a grassroots style, such as spoken word, cultural performances and talent searches.
He also announced the launch of
Gaffer
— "an aggressively priced, production and technical services company".
"It was launched this year in response to an industry need for a company that could work alongside managers to deliver their event production requirements using a simple, upfront hourly billing structure," he said.
"Gaffer is designed to work with in-house event managers, communications and PR agencies. Gaffer benefits from its parent company's purchasing power, infrastructure, resources, expertise and partnerships. This enables Gaffer to offer aggressively priced solutions for event managers."
For more information on GSE's event trends,
click here.