The Four Seasons Hotel in Sydney has announced it will be holding a series of monthly exclusive Winemaker Chef's Tables with prestigious brands including Shaw & Smith, Brokenwood, Cape Mentelle, Villa Maria, Rockford, Petaluma, Bannockburn and Cloudy Bay
By James Wells
The Four Seasons Hotel in Sydney has announced it will be holding a series of monthly exclusive Winemaker Chef's Tables with prestigious brands including Shaw & Smith, Brokenwood, Cape Mentelle, Villa Maria, Rockford, Petaluma, Bannockburn and Cloudy Bay.
According to Four Seasons Hotel Sydney director of public relations, Sarah Vickery, the dinners will have a maximum capacity for 20 people per event.
"Each month, one high profile winemaker from Australia or New Zealand will showcase their collection by pairing wines with a five-course meal including a series of vertical tastings," Vickery said.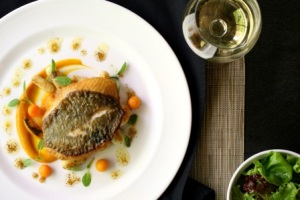 The Four Seasons Hotel Sydney will showcase the best of food and fine wine at monthly exclusive Chef's Table experiences
"The experience begins with champagne and canapés at Kable's wine bar, followed by a degustation dinner with matching wines at the Chef's Table in the kitchen's Garde Manger. After dinner, guests will go even further 'behind the scenes' for a kitchen tour and chocolate tasting in the Four Seasons' chocolate room."
Four Seasons Hotel Manager, Daniel Simon, said the winemaker dinner concept gave guests an opportunity to try the new Kable's menu designed by restaurant chef, Jeffrey De Rome, while tasting the wines.
"We've taken the restaurant wine-dinner concept and created a much more intimate experience where guests can socialise around one large table while learning all about the food and wine from our chef and guest winemakers.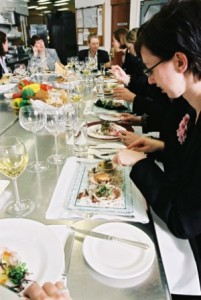 With a maximun group of 20, the experience allows guests to socialise and enjoy the menu

The first dinner featured Taylor's Wines and matched a vertical Riesling tasting of Taylor's St Andrews Wines from 2002, 2005 and 2009 with a lobster and caviar roll; a 2008 Chardonnay was matched with pan seared scallops with cauliflower, raisin puree and an apple and watercress salad; a vertical Shiraz tasting of Taylor's St Andrews 1998, 2002 and 2004 vintages was matched with a confit of pork belly and snail ravioli, parsley and garlic sauce and a vertical Cabernet tasting including the St Andrews 1998, 2004 and 2005 vintages was matched with lamb served three ways with a shallot puree, globe artichoke and lamb jus.
"It was a pleasure to welcome Mitchell Taylor from Taylor's Wines as our first winemaker, who kindly shared a selection of his highly-coveted family museum wines for the inaugural dinner. We look forward to bringing a range of other talented winemakers to our hotel," Simon said.
The next three dinners have been confirmed on Thursday 27 May with Shaw & Smith and Thursday 24 June with Brokenwood and Thursday July 15 with Cloudy Bay.
For more information about upcoming events and bookings call 02 9250 3306.