Take a look inside Kiwi artist Dane Rumble and his wife Nikki Phillip's extravagant baby shower.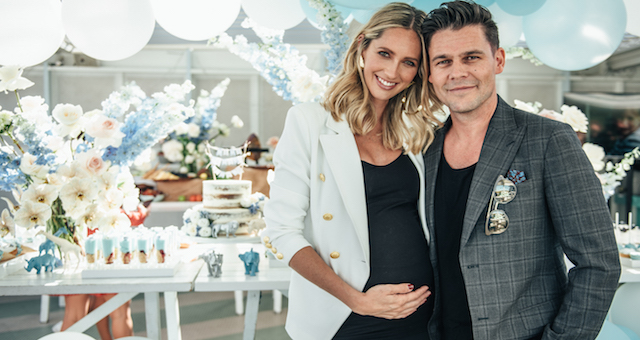 Model Nikki Phillips and her husband Kiwi artist Dane Rumble hosted a refreshingly modern baby shower to celebrate their soon-to-arrive baby boy at Watsons Bay Boutique Hotel.
Guests were treated to a decadent menu which included a vegetarian paella station — cooked live by a chef; an impressive antipasto spread featuring a selection of cured meats, creamy cheeses and succulent fruit; and roving canapes comprising of wild mushroom tartlets and cucumber stuffed Peking duck.
An elaborate cake display by Opal Rains was set up in the centre of the room, and guests enjoyed sipping on juices from Cali-Press and Piper-Heidsieck Champagne.
The theme of the day was baby blue. Gorgeous baby blue balloons, beautiful blooms and mini animal figurines decorated the stunning Top Deck space, glistening in the sunshine, against the picturesque harbour views and soulful acoustic tunes of Dolce Noir.
Guests of note included, Jodi Anasta, Michael Brown, Marina Didovich, Justin Savage and Casey Burgess.