Venue service CVBS and Cheeky Food Group teanmed up for a fabulouf famil experience at Sydney's Swiss Grand Hotel recently.
Conference Venues and Booking Service (CVBS), an Australian venue research service, team cooking company Cheeky Food Group and the Swiss Grand Hotel hosted a group of CVBS' clients at this premium Bondi location. After a famil of the hotel facilities, clients enjoyed drinks and sensationl canapés from their exec chef, along with CVBS hospitality and a Cheeky Team Cook-Up.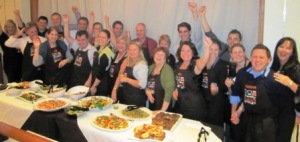 Proud new Cheeky Chefs with the Five Star
buffet they created then enjoyed.
Over 20 people took over the lounge area to flambee, sizzle and see how team cooking events can be held at the Swiss Grand and other CVBS' venues for groups of 10-20 people up to several hundred, Australia-wide. Perfect for conferences, partner programs, workshops and Christmas parties.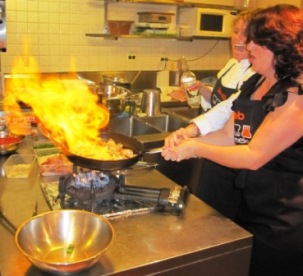 The flambe of the evening!
The evening finished with the creation of an impromptu dance floor, an overnight stay, tai chi morning class and a fabulous breakfast buffet provided by the Swiss Grand.