A chance meeting led Hannah Chipkin and Pippa Joseph to become the creative duo that is Merchgirls.
The founders of Melbourne-based creative agency Merchgirls joined forces after a chance meeting in 2010.
Hannah Chipkin, a fashion designer at the time, saw an ad for a manufacturer claiming 'We can make everything. No job too small'.
Already on the hunt for a manufacturing partner, Chipkin called the number and Pippa Joseph answered, and before long the two were working together.
In 2015, when Chipkin had just closed her fashion business, she was approached by the Australian Ballet to design a merchandise range.
"I picked up the phone and asked Pippa to do it with me," said Chipkin. "She was immediately on board."
From there, Merchgirls was born. With Chipkin on design and Joseph on production, the duo made a name for themselves in the arts space, working with theatre companies, art galleries and bands on bespoke retail merchandise.
Going corporate
Chipkin says the transition from retail to corporate merchandise kicked off with a call from employment marketplace Seek.
"They were really the start for us understanding there's a market for mass promotional merchandise and that really changed where we put our focus," she says.
Since then, Merchgirls has worked with the likes of Australian Open, PEXA, Business Chicks, Mecca and ANZ, and has designed event merchandise for Virgin, Google and YouTube.
"Companies understand there's an expectation to provide a takeaway item and those that put value into it want to do it properly," says Chipkin. "They're the people that want something different to the norm."
Merchandise in a sustainable society
With people more conscious than ever about minimising waste, it begs the question: is merch still necessary in 2020? According to Chipkin, as long as it's meaningful and reusable, it is.
"If something is fit for purpose and well-designed, then it's a desirable, useful item," she says. "If it's just a mousepad with a logo, it's not the most thoughtful thing."
The focus on sustainability also means eco-friendly products such as plantable pencils and reusable bags are becoming more popular.
"We try to keep our footprint as light as possible but we are producing large volumes for certain customers so we need to be as mindful as we can," says Chipkin.
"If you put thought into it, give it purpose and do it well, then it's worth doing."
The next step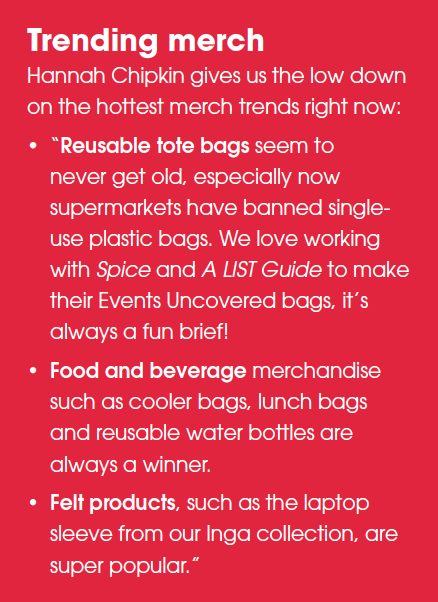 In 2020 and beyond, Merchgirls is upping the ante with its new Corporate Kits, designed to give clients a better idea of what their product suite might look like.
"We're taking our most popular products, branding them in a cohesive way and using it as a helpful tool to showcase what we can do and how it can look," says Chipkin.
"We want to play on the idea of 'emerchency'. The Merchgirls are there to revive your merch."
In the year ahead, Merchgirls is looking forward to working with new and existing clients. The dream client, though?
"A streaming service like Netflix or Stan," says Chipkin. "We'd love to talk to someone in that area, we've got ideas." Airlines also 'fly' high on the dream client list.
---
This article originally appeared in the Autumn edition of Spice Magazine.
Become a subscriber to receive future print issues and read the latest issue below: