The renowned winemaker has made a significant donation towards the Morphettville Event Centre, which will be renamed the Wolf Blass 'The Man' Event Centre.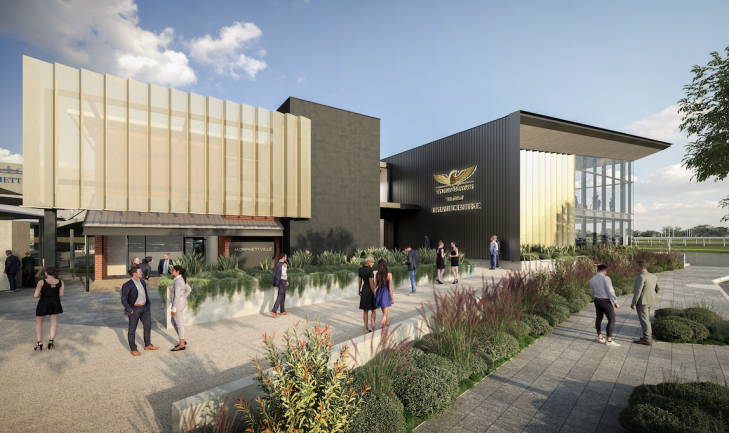 South Australian winemaker and businessman Wolf Blass AM has personally invested $1.4 million into the South Australian Jockey Club (SAJC), for the construction of a new event centre and naming rights to it.
In a significant vote of confidence in Morphettville's vision for a 365-day event and function destination, Blass has donated $1 million to the SAJC.
His additional $400,000 sponsorship is for naming rights of the $20 million Morphettville Event Centre, which will be renamed the Wolf Blass 'The Man' Event Centre as part of a 15-year partnership which will ensure crucial funds can be reinvested into the facility.
Already under construction in Adelaide's southwestern suburbs, the premium events space will cater to occasions ranging from boardroom lunches to corporate events, race day functions and weddings for up to 1,150 guests.
Mr Blass, who has a long association with SAJC vice chairman Judith Jones and the patronage and sponsorship of horse racing, said he has "full confidence" in the SAJC board owing to its vision and recent reform and modernisation of its constitution.
"I have full confidence in their management to position the SAJC and Morphettville as a competitive and driving force to elevate racing in South Australia in the context of the rest of the country," Blass said.
Jones said the South Australian Jockey Club was proud and honoured to have Wolf Blass select it as a beneficiary.
"Wolf is an iconic figure not only in the wine industry but through his philanthropic support of community organisations, and with his backing we can further build on our vision for a dynamic and sustainable Morphettville," Jones said.
Blass has made his donation via the Australian Sports Foundation and the SAJC is seeking to raise an additional $1 million through the foundation towards the event centre's construction.