Events professionals came together at the SMC to explore the boutique exhibition and hear from some of the industry's leading experts on a range of topics.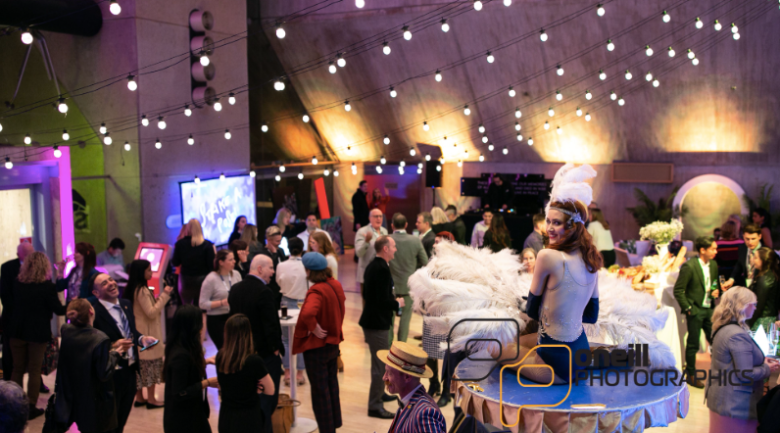 The industry came together for Events Uncovered 2022 on Thursday 28 July to explore the boutique exhibition and gain unique expert insights at the conference program.
Taking place in-person at the Sydney Masonic Centre (SMC) in the CBD, Events Uncovered welcomed event industry professionals to discover the latest innovations, products and services across a range of industry sectors.
Attendees explored the exhibition before heading into the Grand Lodge to learn from some of the industry's leading experts on a range of topics including technology, sustainability, mental wellbeing, case studies, an industry update and much more.
Collaborative partners
Events Uncovered would not have been possible without the generosity and collaborative spirit of its partners.
Venue partner SMC provided the impressive venue, with event components taking place across four spaces, including The Banquet Hall for the exhibition, The Grand Lodge for the Spice Knowledge Sessions and the Foyer for the Wrap Party. The SMC team was exceptional to work with and provided plenty of support to ensure the smooth running of the event in the lead up and on the day and wowed guests with a spectacular charcuterie and cheese spread at the Wrap Party.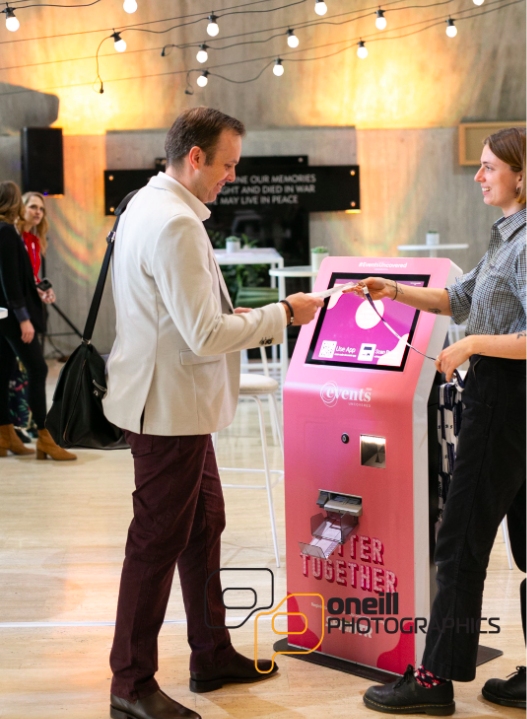 Sprintr by AV1 provided its clever registration kiosks which made for an efficient registration process.
Exponet did a fantastic job of building the exhibition stands, while Valiant created a relaxing botanical-inspired lounge.
Entertainment was supplied by Musicland who provided many surprises including a New Orleans-style brass band and other performers, while Oneill Photographics captured the happenings of the day – keep an eye out for the image gallery out later this week.
Spice Knowledge Sessions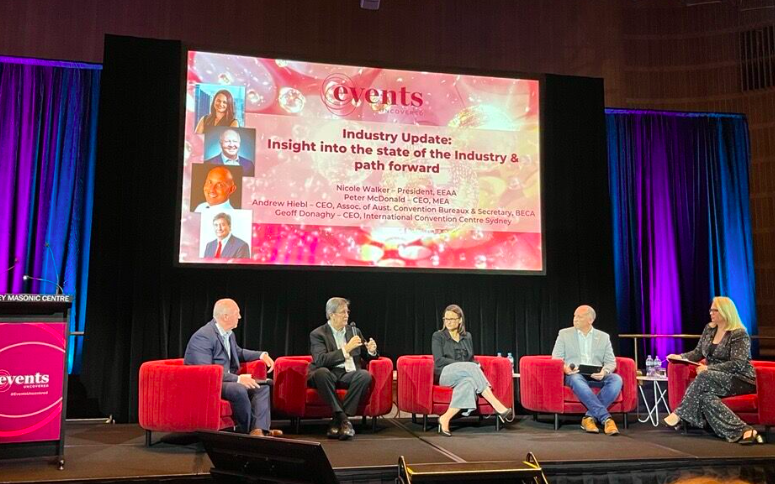 Running alongside the exhibition, the Spice Knowledge Sessions featured experts on a range of topics including technology, sustainability, mental wellbeing, case studies, an industry update and much more.
Kicking off, Bambuddha Group chief executive officer Anna Sheppard delivered an enthralling keynote presentation on the power of kindness, followed by Geoff Donaghy (ICC Sydney), Andrew Hiebl (AACB and BECA), Peter McDonald (MEA) and Nicole Walker (EEAA) who shared an industry update.
Industry update
Overall, while business events are back in full swing and the industry sentiment remains confident and optimistic in its recovery, staffing and skills shortages continue to pose an industry-wide challenge, not just in Australia but globally.
"There are many facets of the challenge that must be addressed; Visa processing times for skilled migrants, university students, mature aged workers, women returning to the workforce, and so on," EEAA President Nicole Walker said.
"As an industry we need to continue to collaborate to get us through this next phase of the pandemic challenges."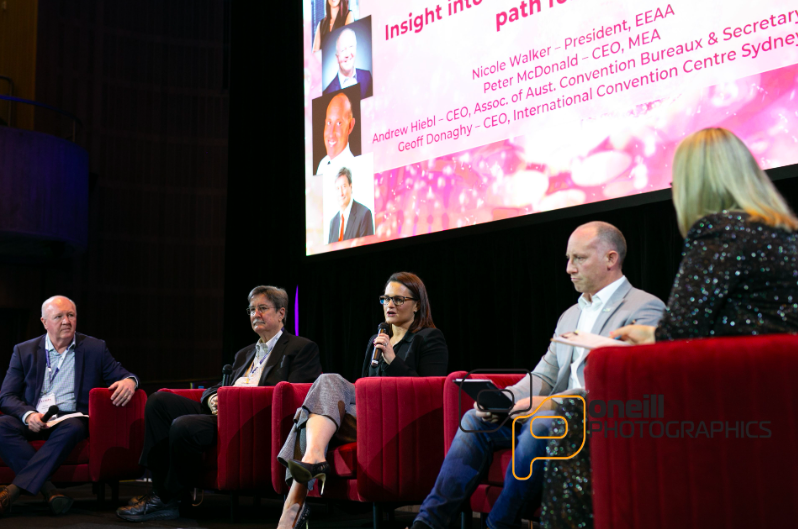 Adding to this, MEA chief executive officer Peter McDonald said:
"Whilst it's widely agreed there's an acquired skills shortage, the reality is there's not a skills capability shortage. Loosely quoting Richard Branson, employers will benefit from recruiting for attitude, and training for experience. Skills can be improved much more easily than attitude can."
Looking towards the next 12 months, McDonald said he was looking forward to the new ideas that the lateral thinking skills the pandemic drew out will deliver in the sector.
AACB CEO and BECA secretary, Andrew Hiebl said:
"We are at a unique juxtaposition whereby there is a high level of confidence in the industry, but certainty is low – typically, high confidence and certainty go hand in hand."
Reflecting on the industry's efforts and achievements throughout the pandemic, he said that all of the associations came together as once voice under BECA.
"We did this well and it was critical not just for advocating with consistency to the government, but also in providing clear messaging to the industry. While we had the ear of the government, we did not have the right structure to draw on a central pool of physical and especially financial resources to truly influence government in support of our sector," he said.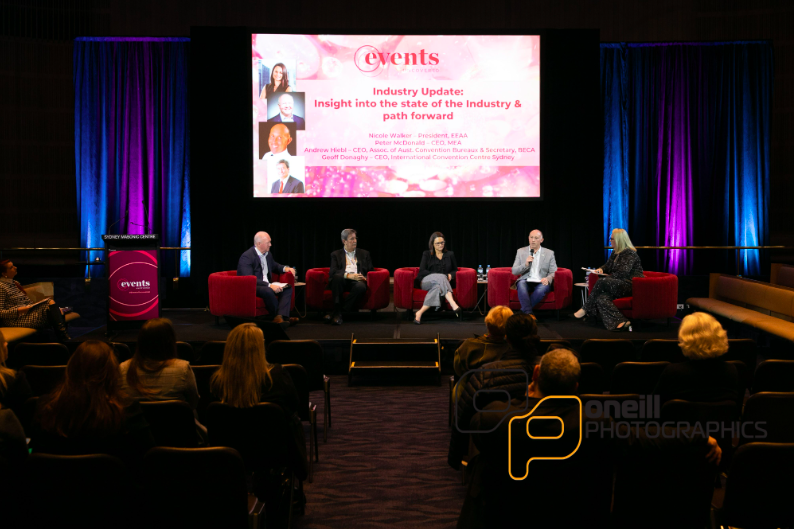 Hiebl also highlighted that the business events industry had never had such a spotlight on it before at the federal level, pointing out the government's $56 million investment through a COVID-19 grant program and the 'THRIVE 2030' national strategy's recognition of the industry's economic benefit and broader legacy contributions beyond just tourism impact.
"We need to take advantage of this. We even achieved bi-partisan support at the recent federal election when it came to the extension of the BE Bid Fund Program and focus on business events data capture and analytics to better reflect the true contribution that we deliver to the Australian economy."
Sustainability and Social Responsibility
Walker also participated alongside Sheppard in the Sustainability and Social Responsibility panel and highlighted the fact that sustainability is more than just environmental.
"It needs to be Human, Social, Economic and Environmental – sustainability is a full supply chain process and everyone involved can make a difference in a one way or another," Walker said.
A hot topic of the discussion also looked at carbon neutral events and the importance of managing and measuring it correctly.
"Carbon Neutral events is great however you have to start managing this from the outset to ensure you capture the right data. There are costs involved in Carbon Neutrality including External Audit Fee, Consultancy Fee, Submission Fee and Carbon Offset Credit costs."
More panel highlights
Other highlights of the Knowledge Sessions including Beyond Blue speaker Crosbie Lorimer who shared his own story of mental wellbeing challenges and triumphs, legal expert Matt Crouch who dived into event legalities, and reconciliation consultant and Wiradjuri man Garry Farrar who spoke on the importance of Reconciliation Action Plans and incorporating Indigenous Australian into events in a meaningful way.
Chris Schlueter (Sprintr), Joe Ciliberto (EventsAir) and Michelle Schuberg (Curiious) spoke about the future of event tech, discussing new innovations and how technology is evolving to keep audiences interested and engaged, with the Metaverse a hot topic of conversation.
Schlueter encouraged event managers not to be afraid of embracing and trying out new technologies and offered useful tips.
"Event tech doesn't have to be something to shy away from, embrace it while ensuring that you are implementing meaningful solutions," he said.
"Consider and actively think about the experience a virtual attendee goes through and how they interact and engage with your event and content and when it comes to engaging the expertise of an event tech professional, remember that time is of the essence – the more that we have with you and your stakeholders, the better we can understand your event and its unique requirements."
Silke Calder (AIME), Jane Lyons (Hyatt Regency Sydney), Samantha Hassan (The Star Sydney) and Vanessa Green (Cliftons Event Solutions) shared their personal career key learnings and successes as women in the industry, offering advice for the next generation.
Finally, the Three Events, Three Lessons panel, featuring Lana Boardman (Optus), Carrie Kwan (Mums & Co) and Albert Kruger (Sydney Gay and Lesbian Mardi Gras), looked at three very different yet inspiring events about the way they were delivered and the challenges they overcame to reach success.
Great feedback
The feedback from both exhibitors and attendees has so far been overwhelmingly positive.
As a first-time exhibitor, Ottimo House head of corporate sales and marketing Julie Pilkington said her expectations were exceeded.
"What an incredible team to work with and what a sensational show! Being the New Kids on the Block as a venue in the corporate market, we were excited about showcasing as an exhibitor and the response on the day by the attendees exceeded our expectations – we had a multitude of solid leads and site visits to follow up on, and we are already looking forward to being able to sign up for the 2023 event," Pilkington said.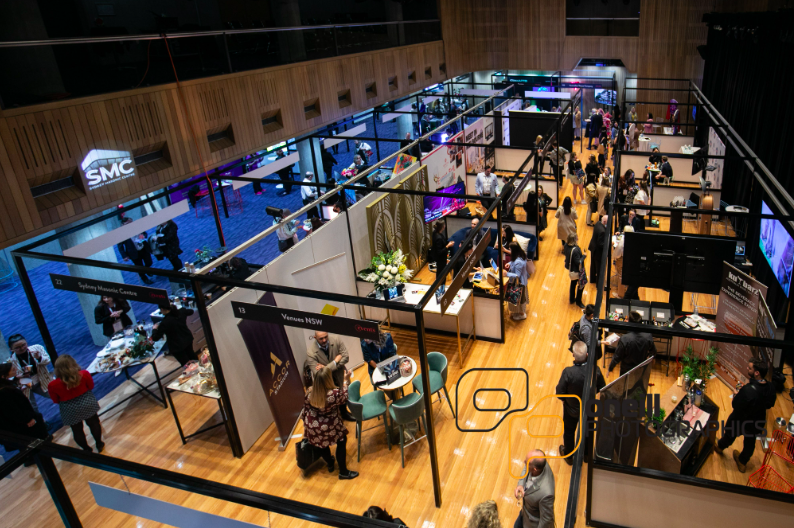 Long-time Events Uncovered supporter and Funktionality managing director Tracy Wood said it was fantastic to be back at the event meeting familiar and new faces.
"Funktionality has been supporting events uncovered since the day it started and I take my hat off to the tiny team at Spice who throw all they have into this trade event for zero profits. It was nice to see familiar friendly faces as well as meet a host of new suppliers – it was fantastic to get back out and reignite those old connections and create new ones."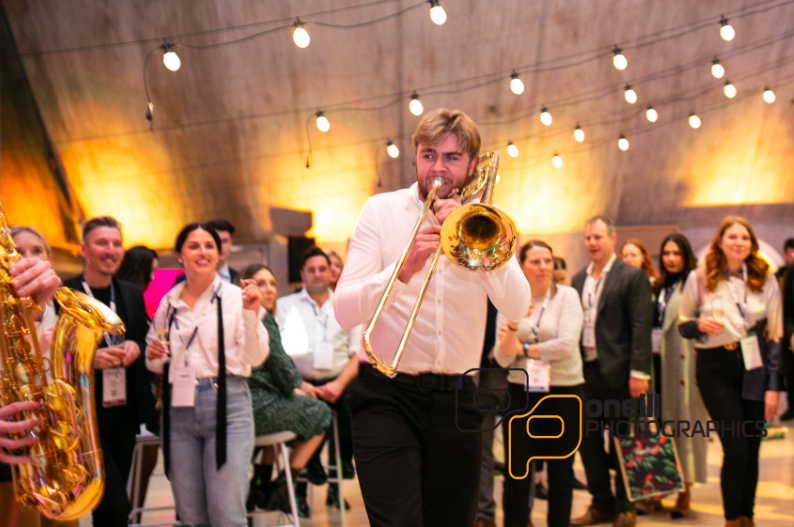 Conference Venues & Booking Services managing director Karen Jepson was impressed with the organisation and venue.
"I found Events Uncovered extremely informative and beneficial with a high calibre of exhibitors. The show was very well organised and SMC was a great venue to hold this with the exhibition space suiting the number of Exhibitors in attendance. Will definitely be back next year!"
Images are courtesy of Oneill Photographics