WA is charging ahead of other states, setting a date for the removal of all event restrictions.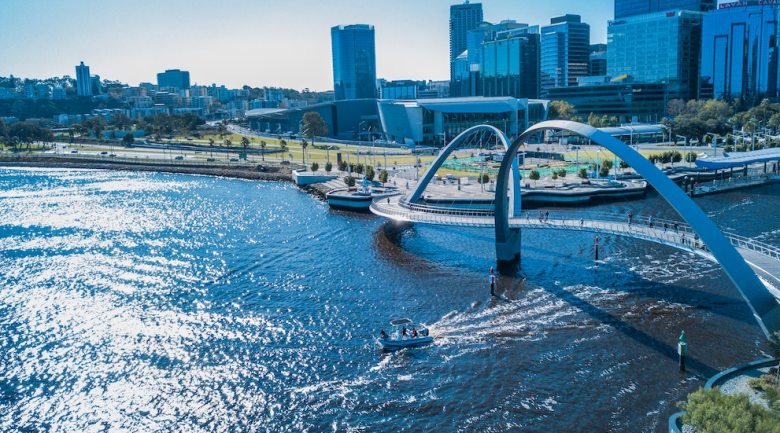 Perth, WA
Western Australia (WA) will move to Phase 4 of its COVID-19 recovery this week, which will see existing restrictions on event attendees removed.
From Saturday 27 June, gathering limits will only be determined by WA's reduced one person per two square metres rule.
For WA's major sport and entertainment venues, including the Perth Convention and Exhibition Centre, a 50 per cent capacity rule will apply.
Perth's Optus Stadium, for example, will be permitted to hold up to 30,633 for sporting events or 35,000 for concerts.
Phase 5 is planned to be introduced on 18 July and will result in the removal of the two-square-metre rule, all gathering restrictions and the 50 per cent capacity limit for major venues.
WA Premier Mark McGowan said the state is ready to "take another giant step out of COVID-19 restrictions".
"WA is still the only state without the problematic four square metre rule, and now we go even further by removing most of our remaining restrictions in Phase 4," he said.
"We can only do this thanks to WA's success in minimising the spread of COVID-19, and our hard border with the eastern states."
Read our state-by-state breakdown of COVID restriction rollback here.
EEAA welcomes the move
The Exhibition and Event Association of Australasia (EEAA) has welcomed the move, with chief executive Claudia Sagripanti commending the local industry on their lobbying efforts.
"Western Australia is paving the way forward with Phase 4 COVID-19 restriction liftings starting from this Saturday, meaning the Perth Convention and Exhibition Centre will be able to operate at 50 per cent capacity, followed by the Phase 5 removal of the two-square-metre rule set to be introduced on Saturday 18 July," she said.
"Nigel Keen, EEAA board member and general manager of Perth Convention and Exhibition Centre, has been actively working with the Western Australian Government and Minister Paul Papalia to achieve this milestone for WA and we are delighted that the intensive lobbying work carried out is starting to gain traction."
Plans to reopen border put on hold
Phase 6 of WA's recovery was originally planned to include the removal of the hard border with the rest of the country and travel restrictions currently in place for remote Aboriginal communities.
A tentative date for the removal of WA's hard border was planned to be included as part of this phase, however this has now been put on hold due to the rapidly evolving situation in Victoria.
McGowan said while he wishes he could remove all restrictions at once, the WA Government must be responsible and follow the health advice.
"I will not risk the health of Western Australians and the potential damage to our economy, which is rebuilding now after the closures at the height of the pandemic," he said.
---

---
More reading
BECA calls for JobKeeper extension to keep business events alive
How each state plans to lift COVID-19 restrictions
Events to restart in July as PM scraps 100-person limit