The renowned chef will bring his signature style to two iconic Sydney locations.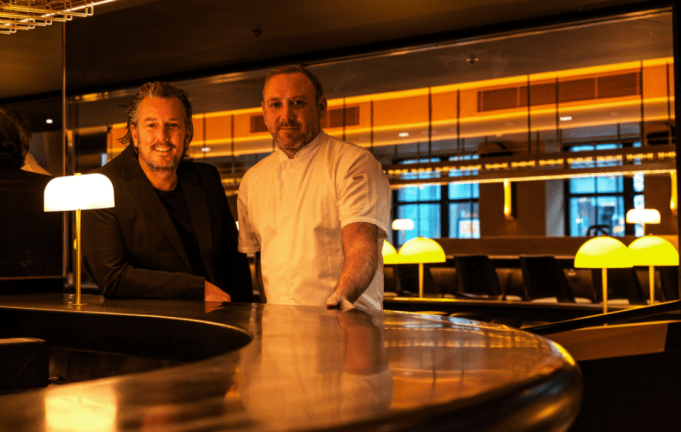 L to R: Brett Robinson and Joel Bickford
The Point Group has welcomed renowned chef Joel Bickford as culinary director of Fort Denison in Sydney Harbour and Shell House in the CBD.
After more than four years as executive chef at Aria Sydney, Joel will work closely with The Point Group's co-founder and director Brett Robinson, to create casual dining experiences at Shell House Dining Room & Terrace, and the Sky Bar Rooftop, set to open in October.
"Joel's vast experience, creativity and dedication to quality, accompanied by his belief in our vision to create two world class dining destinations for Sydney, is such an important milestone and gives our team so much confidence," Brett said.
Inspired by his connection to nature and rural roots, Joel's cooking style takes a less-is-more approach which champions seasonal Australian ingredients and strikes a perfect balance between simplicity, extravagance and innovation.
"The Point Group team's vision to breathe new life into two remarkable Sydney buildings is so exciting and a great opportunity for me to work alongside a progressive, dynamic and forward-thinking team of people," Joel said.
"I'm excited about creating these important new dining experiences for Sydney at a time when we all need some inspiration."
The multi-level offering at Shell House will include all-day dining bar and bistro Menzies Bar on the ground floor; The Dining Room on level nine with a cocktail bar, open kitchen, and indoor-outdoor dining room and terrace; and a Mediterranean-inspired rooftop bar with 36-degree views of the city.
Opening September 2022, Fort Denison Dining marks the next exciting project for the hospitality group, which will see Joel deliver a distinctly modern Australian dining experience, highlighting sustainable seafood and local producers against unparalleled views of Sydney Harbour.