The former GM of Cairns Convention Centre accepted the honour at the annual awards night.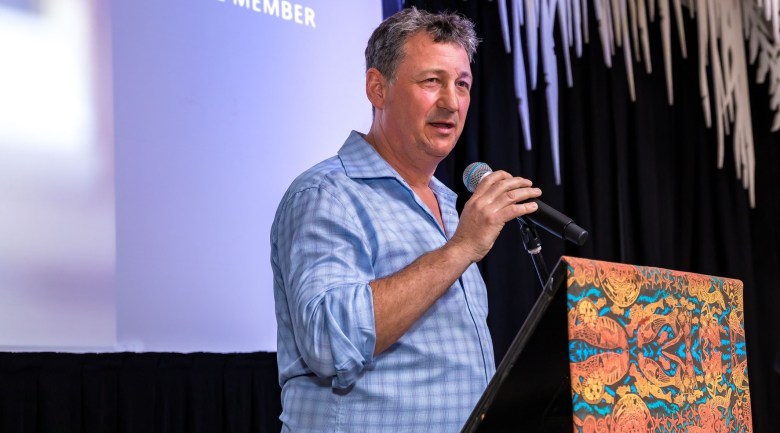 Ross Steele accepts his Life Member award
Convention centre executive Ross Steele has been recognised as a life member of Tropical North Queensland (TNQ) Tourism, reflecting his contribution to tourism during his time in the region.
Awarded at the TNQ Tourism Industry Excellence Awards in Cairns last week, the honour recognises Steele's work as general manager of the Cairns Convention Centre for 12 years.
Steele said he was humbled to receive the recognition and proud to have been part of a team that achieved two World's Best Congress Centre awards.
"It is not an exaggeration to say I share this award with hundreds of extremely talented people – in particular my colleagues at ASM Global and the many conference and event organisers who we worked with over many years to make the Cairns Convention Centre such a success," he said.
Earlier this year Steele was appointed general manager of Te Pae Christchurch Convention Centre, which is slate to open in 12 months.
"What makes the award very special to me now, is it has provided the opportunity to connect with the Australasian industry in a new way, and to reinforce the unique benefits of the South Island, Christchurch and Te Pae Christchurch Convention Centre when they consider developing their next event," he said.
The Australian market has already shown strong interest in the upcoming centre, with a number of events booked for the venue's opening season.
"Te Pae Christchurch is as much about people as it is a place," said Steele.
"We've started to build a fantastic Christchurch-based team, with a real depth of local and international experience.
"Our focus on people who not only understand the unique dynamics of the conference and events sector but also embody the warm, welcoming culture we are creating is absolutely vital if we are going to achieve our aim of establishing Te Pae Christchurch as a leading, world class venue."