A leading Global-Asia node for MICE and business travel, how is Singapore offering event organisers peace-of-mind as it transitions to COVID resilience?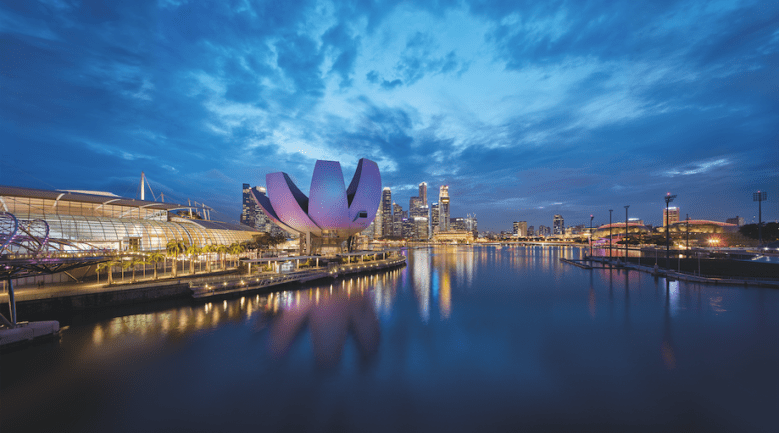 ArtScience Musuem, Singapore.
A leading Global-Asia node for MICE and business travel, how is Singapore offering event organisers peace-of-mind as it transitions to COVID resilience?
As a destination that boasts a stellar track record of hosting world-class business events, Singapore is elevating industry standards and instilling confidence in international event organisers to safely host MICE events amid a COVID landscape.
Long-established trust
Over decades, Singapore has built a strong resume and wealth of accolades as a trusted destination for high-quality events. This global reputation is underpinned by its vibrant business culture, excellent infrastructure, stable government and strong connections to Asia Pacific and beyond.
With more than 1,700 state-of the-art venues and a robust ecosystem of experienced industry partners, MICE professionals have continued to deliver compelling events, even during the height of the pandemic. In 2021, global MICE leaders met in Singapore for the Joint Leadership Summit to share their expertise and plan for the return of in-person events in the region.
Continuous innovation
As the world adapts to the new business- as-usual, the future-ready mindset of the nation sets them apart as thought-leaders in reimagining business, travel and MICE through new offerings and capabilities.
Singapore's business events industry has been agile and resilient, facing challenges head on by coming up with protocols and technologies for a new era of events, without compromising the quality of the experience.
Key to this has been embracing the hybrid event model. MICE venues have transformed live event elements, leveraging immersive digital technologies to enhance engagement and content delivery. The Marina Bay Sands' hybrid event broadcast studio animates digital presentations through LED walls and hologram capabilities within a physical stage.
Venues have demonstrated an ability to provide the infrastructure, service and technical support to deliver successful hybrid event programs. SingapoReimagine MICE Virtual Show offered a virtual 3D tradeshow for delegates to connect remotely with exhibitors.
Through hosting events such as the Asia Sustainability Reporting Summit and Ecosperity Week, Singapore is driving discourse on critical topics like sustainability and climate change. A commitment that is widely supported at a venue level – the Sands Expo and Convention Centre is Singapore's first carbon-neutral business event venue, and Resorts World Sentosa is home to one of the country's largest solar panel installations.
Safeguarding Public Health
MICE events are resuming in Singapore in a risk-calibrated manner, with protocols constantly being refined to maintain the highest standards of event safety.
The population's high vaccination rate offers a strong foundation to safely restart MICE activities with international participants. Singapore's government launched SG Clean, a certification that has been awarded to prominent event venues for excellence in cleanliness and infection control.
Venues have adopted Safe Management Measures to reduce the risk to public health, in conjunction with high-tech safety features, like the Safe Event platform that uses geospatial technology to enforce safety measures, trialled at the Geo Connect Asia 2021 conference.
Having managed the pandemic with rigorous safety and hygiene measures, Singapore is now working towards COVID resilience. Health and safety remains a top priority and through championing ingenuity, Singapore upholds its reputation as a leading destination for international events.