Growing and developing at a rapid rate, Sydney's second city is well on its way to becoming a globally renowned business events destination.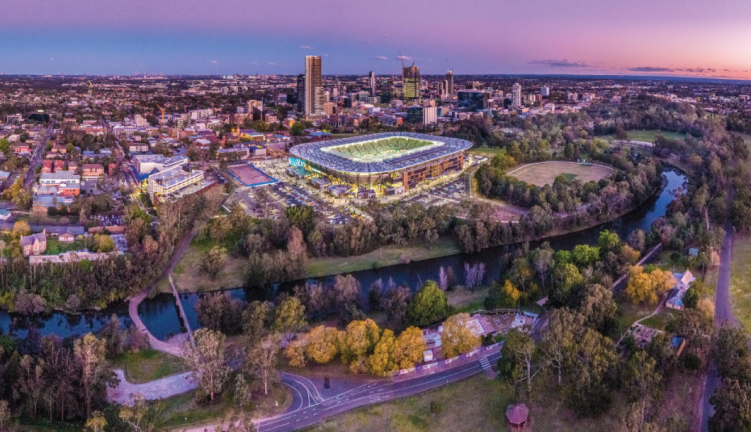 Parramatta, New South Wales. Photo credit: Destination NSW.
With its rich history, culturally diverse precincts and world-class facilities, the City of Parramatta is a prime destination for hosting business events. Home to the Dharug people and their meeting place for more than 60,000 years, Parramatta knows how to bring people together and with a slew of excellent transport links and new developments, it's incredibly well connected and accessible. Compared to Sydney's CBD, it's also more affordable for hosting events and offers everything you need to make your business events a success with plenty to do in the city and surrounds.
New developments in a growing city
As one of the fastest growing regions in New South Wales, Parramatta is undergoing a major transformation. Over the next five years, $20 billion will be invested into the city's infrastructure and development, propelling it towards its vision of becoming a sustainable, liveable and productive global city.
One of these new developments is the $77 million aquatic centre, situated within the UNESCO World Heritage listed Parramatta Park. Opening early 2023, it will feature three swimming pools, a water playground, multipurpose community rooms, gym, and wellness centre.
In 2025, a new cultural precinct will open on the Parramatta River foreshore. Designed to be a 24/7 attraction, The Powerhouse Precinct will include a new Museum of Arts and Applied Sciences alongside the iconic Riverside Theatres, which will next year commence a $170 million redevelopment that will double its capacity.
The 30-minute City
Parramatta is the geographic centre of Greater Sydney and has excellent transport links, making it within 30 minutes reach from most parts of Sydney. From Sydney CBD, it takes just 30 minutes by train, and slightly less by car when travelling via the new WestConnex.
Major transport infrastructure developments include the ambitious multibillion dollar Sydney Metro West project which will increase Parramatta's accessibility and connectivity more than ever before. Expected to be completed by 2030, this new underground metro railway will connect Greater Parramatta and Sydney CBD, doubling the rail capacity between the two with a travel time of just 20 minutes.
The Parramatta Light Rail project is also well underway and once complete, it will connect Parramatta CBD to a number of western suburbs as well as to other transport links.
By 2026, the highly anticipated Western Sydney International (Nancy-Bird Walton) Airport will transform the region even further, welcoming international and domestic flights.
Parramatta Square and PHIVE
Parramatta Square is the beating heart of the city and its redevelopment is transforming the city centre with a refurbished Town Hall, world-class dining and retail, community spaces, soaring office towers, a campus for the University of Western Sydney, and much more.
One of the most exciting new developments here is the newly opened PHIVE, which stands for Parramatta's Health, Innovation, Vision and Enterprise. Featuring a bold and striking design, this six-level landmark building houses a library, discovery centre, recording studios, wellness space, bookable workspaces, council chambers, event spaces and more. The building connects seamlessly with the original heritage-listed Parramatta Town Hall and its state-of-the-art, sustainably minded design has made it the first council building in New South Wales to achieve a 6 Star Green Star rating.
Filled with natural light and open spaces that encourage collaboration and creativity, PHIVE has a number of bookable meeting and event spaces that can accommodate anything from team meetings and workshops to launches, corporate functions and team activities. Spaces can be combined or configured to your needs and feature the latest AV and video conferencing equipment with onsite tech support and catering also available.
Stay in style at SKYE Suites Parramatta
Just a five-minute walk from Parramatta Square, SKYE Suites is the perfect place for accommodating corporate groups and business events.
Designed by renowned Japanese-Australian architect Koichi Takada, the hotel features a boutique-urban-resortmeets-home-away-from-home style with spacious studios and one- and two-bedroom suites. Offering contemporary comfort, they feature open plan living with fully equipped kitchens with thoughtful touches such as Kevin Murphy toiletries and the option to pick your choice of firm or soft Sleeping Duck mattress.
Onsite facilities include a welcoming three-storey atrium-style lobby, 25-metre heated outdoor swimming pool, jacuzzi, sauna, gym, the spectacular rooftop bar Nick and Nora's on level 26, and a range of retail outlets, restaurants and eateries right at your doorstep.
Meetings and conferences are well catered to with a 224-square-metre space featuring four function rooms, of which three can be joined into one room for larger groups. Filled with natural light, each room has the latest tech capabilities with a projector, drop-down screen and audiovisual equipment and a dedicated event planner can assist with everything from venue design and catering to special suite rates.
Another notable events space is the Philip Ruddock Heritage Centre, which displays the archaeological remains of buildings and structures dating back to the 1800s. Located beneath SKYE Suites, this fascinating space gives a unique insight into Parramatta's past and can host up to 60 cocktail.
A smorgasbord of diversity
Parramatta offers numerous museums and galleries to explore; sporting venues; a variety of restaurants and shops, including Westfield Parramatta – one of the largest shopping centres in Australia; and heritage listed Parramatta Park. It's also the perfect base for exploring the Blue Mountains and parts of Country NSW.
Throughout the year, Parramatta celebrates its melting pot of cultural communities with festivals such as the hugely popular Parramatta Lanes which has been treating locals and visitors to a smorgasbord of street food and live entertainment for ten years running.
Parramatta also boasts a plethora of options for dining and socialising. Parramatta Square has an array of upscale new restaurants, with everything from French and Italian to pan-Asian – Lilymu is a definite crowd-pleaser. For a hearty Lebanese banquet, go to Bayti at SKYE Suites, and for vibrant Middle Eastern, check out the newly opened 300-seater Misc. in Parramatta Park.
The restaurant-lined Church Street is nicknamed Eat Street for a reason, while Parramatta Riverside is great for late-night dining. Nearby Harris Park, aka Little India, spoils for choice with cuisine from all over India.