The Premier said workplaces will look "very different" when the state reopens.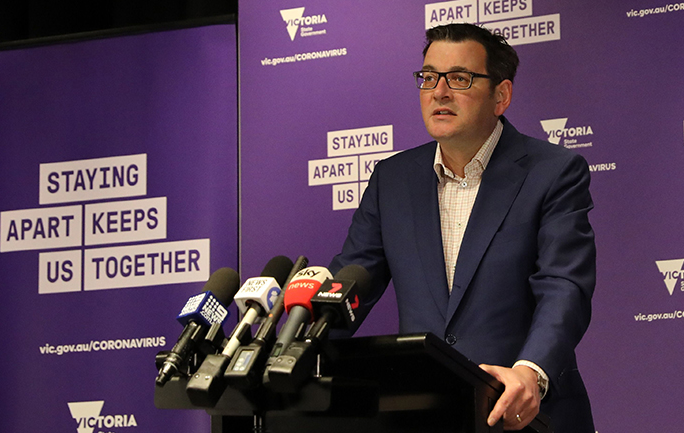 Premier Daniel Andrews
Outdoor meetings, open-air lunch breaks and 'workforce bubbles' may be the new norm according to the Victorian Government, which is due to release its reopening roadmap this Sunday, 6 September.
Ahead of the release, the government is commencing intensive discussions with industry and community groups to inform the final development of Victoria's roadmap to 'COVID Normal'.
Many of the principles are things Victorian businesses will be familiar with, such as physical distancing, density requirements, wearing face coverings and strict hygiene protocol.
However, Premier Daniel Andrews said workplaces "will need to look very different as we find our 'COVID Normal'", with a number of new initiatives to also be introduced.
The government has advised workforce bubbles should be created to limit the number of staff in close contact with each other, which could include rostering staff on the same shifts and reducing staff working across multiple sites.
The framework would also recommend changes to work meetings and lunchtimes, such as avoiding enclosed spaces, opening doors and windows for airflow, moving tearooms and lunch breaks outside and conducting meetings and team catch-ups outdoors.
"We know every Victorian wants certainty about the future – for them, for their family and for their work," said Andrews.
"By the end of the week, we will lay out a plan to re-open our state."
The government will also consult with community support organisations on the impacts of social isolation on Victorians ahead of the roadmap's release.
Minister for Industry Support and Recovery Martin Pakula said it is crucial to work with businesses to establish the roadmap.
"Over the next few days, we'll be talking through our COVIDSafe principles to ensure businesses can survive, adapt, and most importantly, open up safely," he said.
---
More reading
Reopening state borders the 'single most critical' step to business events recovery
Melbourne returns to lockdown: What this means for events
EEAA launches COVID-19 Safe Framework for business events