An exciting line-up of new exhibitors has signed on to take part in New Zealand's showcase business tourism event, Meetings 2011.
An exciting line-up of new exhibitors has signed on to take part in New Zealand's showcase business tourism event, Meetings 2011.

Rotorua is hosting the event for the first time this year and all the stops are being pulled out to ensure the exhibition is a huge success.
Held annually, Meetings is an opportunity for suppliers and operators of a diverse range of New Zealand venues, products and services to meet with conference and incentive travel planners.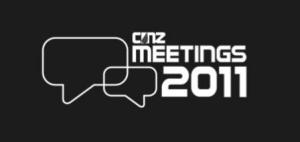 Event manager Jeanette Stanton says exhibitor numbers for this year's event are down slightly on last year, but that is because there is a smaller contingent of exhibitors coming from Christchurch due to the recent quake.
"We've got some exciting new exhibitors this year that will add new energy to the expo and inspire some interesting new options for conference and incentive travel planners,'' Stanton said.
Among those making their inaugural appearance at Meetings is Queenstown-based Ziptrek Ecotours and general manager Stu Cordelle is excited about the possibilities Meetings could open up.
"Ziptrek Ecotours is a new product that has not been offered in New Zealand much less Queenstown before, and we see potentials from both educational and experiential perspectives. One of the key aspects to our product in the adventure realm is its combination with an exciting interpretive guided tour, including an emphasis on environmental awareness. We see the MICE market as having huge year-round growth opportunities . . . this is just the beginning," said Cordelle.
Hobbiton Movie Set & Farm Tours are delighted to be taking part in the show in Rotorua for the first time.
Hobbiton Movie Set is the only complete location left that featured in The Lord of the Rings and is about to be seen again by millions of movie-goers when The Hobbit is released in 2012 and 2013. The Shires Rest Cafe and Function Centre is ideally situated at the entrance to the set in the beautiful rolling green hills of the Waikato and the combination of cafe and set provides an exciting venue for the conference and incentive market.
"We are looking forward to making new acquaintances, describing the many options we have available and sharing our love of The Shire," says Ian Brodie.
In a new drawcard for hosted buyers, this year includes a new initiative, sponsored by Certain Software, Celebrity Speakers and Rotorua Energy Events Centre, that will see them treated to a special breakfast on the first day of the expo. During the breakfast they will hear from Bill Taylor from Certain Software on Accreditation best practices for large events, and three celebrity speakers – award-winning television journalist Mike McRoberts, pharmaceutical scientist Sir Ray Avery, and motivational expert Tony Mowbray who sailed solo, non-stop around the world.
"All of these speakers are very inspirational and have enjoyed enormous success in their own lives. I'm sure the hosted buyers will love hearing from them and that they will get Meetings off to a very positive start,'' said Stanton.
Hosted buyers will also be given the chance to experience the delights of the Rotorua region first-hand. The Rotorua Convention Team is putting together a comprehensive leisure programme for Friday, June 24, that will give participants a fantastic insight in to what the region offers visitors.
"Applications for the Hosted Buyer programme don't close until April 15 so there is still time for people to apply online so they can take advantage of these exciting opportunities,'' Stanton said.
For more information and hosted buyer applications click here.