Marina Bay Sands has rolled out a new programme providing greener options for its meeting planners and clients.
Marina Bay Sands has rolled out its Sands ECO360° Meetings Programme, a new and holistic approach to providing greener options for its meeting planners and clients.
The programme focuses on three main areas: green meeting options, high-performance facilities and standard sustainable practices.
For the programme, a 'Green Meetings Concierge' is assigned to clients to assist them in customising the property's various green offerings that align with their sustainability goals. The concierge will also present a Sands ECO360° Event Impact Statement to the client after the event. This Statement will provide information about the event's impact on the environment, including energy consumption, water use and waste diversion rates.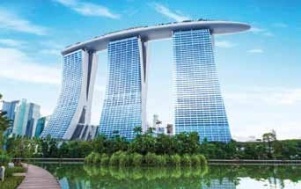 Planners organising events at Marina Bay Sands now have more 'green options.'

Clients hosting an event at Marina Bay Sands can select options including the reduction of materials used in the planning and execution of the event, such as going paperless, e-billing and the use of sustainable materials such as water jugs in place of plastic bottles. Clients can also request for more sustainable food options, such as organic, locally-sourced foods and fair trade produce.
For its high-performance facilities, Marina Bay Sands has earned many third-party environmental certifications, clearly demonstrating its commitment to conserving natural resources and improving its occupants' health and comfort. This includes being certified as the largest Green Mark Gold building in Singapore by the Building Construction Authority (BCA), Singapore, as well as the largest Bronze Benchmarked building in Asia certified by EarthCheck, the world's leading environmental benchmarking and certification programme.
The property has implemented many standard sustainable practices into its operations, including resource conservation, air quality pollution prevention, recycling, and sustainable purchasing procedures. These practices all add value to the organiser's sustainable event at no additional work or cost to them.