The event and meeting industry celebrated with an evening of glitter and sparkle marking the completion of Hyatt Regency Auckland's rejuvenation recently
The event and meeting industry celebrated with an evening of glitter and sparkle marking the completion of Hyatt Regency Auckland's rejuvenation recently
The event, which took place on Thursday, 29 April saw Auckland's first five-star international hotel brand celebrate an extensive renovation resulting in the modernisation of the Regency Tower, and an upgrade of style in the Residence Tower, The Café, Lobby Bar and Lobby area.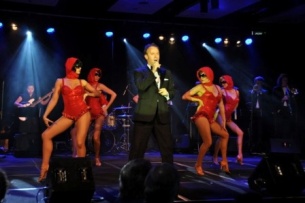 Tim Beveridge and Vegas show girls entertain at the event

"The hotel's transformation now provides a premium product and service offering, designed to exceed the expectations of our guests," said general manager, Franz Mascarenhas.
"The event, attended by key personnel of the corporate, leisure and meetings industry provided an opportunity to showcase the hotels banquet capabilities as guests were treated to a memorable night of fine food ,wine and entertainment," he said.
With 354 rejuvenated rooms, suites and penthouses in both the Regency and Residence Towers, the hotel's Residences Tower comprises 87 rooms and suites with kitchen facilities and balconies – including studio suites, one- and two-bedroom suites and penthouses. This is in addition to the 267 modernised rooms in the Regency Tower.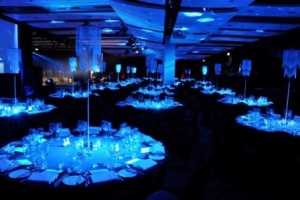 The Princes Ballroom at the newly renovated Hyatt Regency Auckland
Based on room layout and configuration, the conference and banqueting facilities at the hotel can accommodate up to 650 guests for a banquet dinner in the Princes Ballroom and an additional 550 guests in the Regatta Room.
To support its range of facilities, the hotel has parking space for 290 vehicles.
For more information on holding your next event at the hotel click here.