The venue's Grand Ballroom went green for the Lansdowne Club's St. Pat's Day lunch, hosting 1,400 people.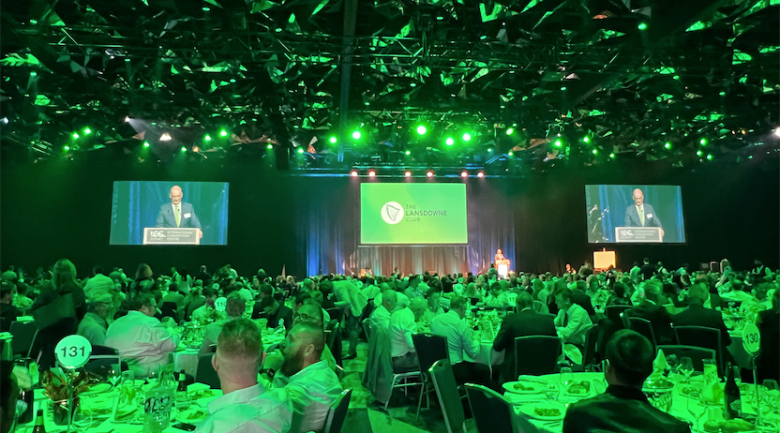 International Convention Centre Sydney (ICC Sydney) went green for St. Patrick's Day last week as it hosted 1,400 guests restriction-free for the Lansdowne Club St. Patrick's Day lunch for the first time since March 2020.
Now in its sixth consecutive year, the annual lunch event was the last in-person event held at the venue two years ago prior to COVID-related restrictions coming into place, with this year's sold-out event marking a milestone in the recovery of Australia's business events industry and reflecting the demand for in-person events.
Even though the event went ahead last year, guests at this year's event were able to enjoy a restriction-free celebration which included a three-course Irish-inspired menu, traditional dancing, music, comedy, a raffle, and in-person networking.
Held in ICC Sydney's Grand Ballroom, the event was expertly planned and delivered by ICC Sydney's team, which ICC Sydney chief executive officer said was delivered to a world class standard.
"After the impact of COVID-19 on Australia's business events industry, this was a real celebration and big milestone towards the recovery and widespread return of in person events," Donaghy said.
The event reflects the growing demand for in-person events and shows momentum is building in the recovery of an industry, which generated $36 billion annually for the national economy prior to COVID-19.
For the financial year 2020-21, ICC Sydney's economic contribution to the broader economy was just 10 percent of a usual year due to COVID-19 – down from $900 million to $80 million annually.
"While ICC Sydney continued to operate throughout the last two years, navigating lockdowns, restrictions and border closures, it has been extremely challenging," Donaghy said.
"However, I couldn't be more proud of our world class team which used this time to raise the bar. We have developed new products, enhanced our services and built our skills, to deliver even more exceptional events into 2022 and beyond. The Lansdowne Club lunch is just one example of the team doing what they do best".
As event restrictions continue to life and international and state borders open, confidence in the Australian events market is growing with an increase in demand and event bookings resurging across the board.