The venue has strengthened its commitment to celebrate the cultures, protocols and traditions of Australia's First Nations people.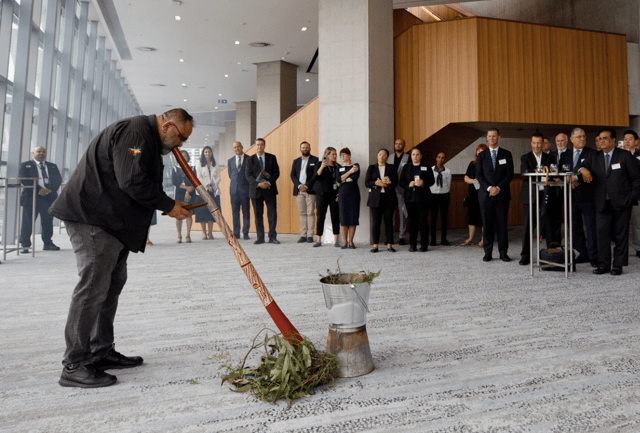 ICC Sydney second Reconciliation Action Plan launch.
International Convention Centre Sydney (ICC Sydney) has strengthened its commitment to respecting and acknowledging Australia's First Nations culture and community by launching its second Reconciliation Action Plan  at the city's inaugural Business Sydney First Nations Forum held last week.
In 2018, ICC Sydney was the first convention centre to commit to a Reconciliation Action Plan and this next phase of work continues to build respect of, relationships with, and opportunities for Australia's First Nations people.
"Our vision for reconciliation is one where collaboration and partnership foster greater inclusion, opportunities and recognition for Australia's First Nations people," ICC Sydney chief executive officer Geoff Donaghy said.
"As an iconic destination, which stands and operates on the traditional lands of the Gadigal people of the Eora Nation – on Tumbalong, the land, and Gomora, the water, what is known today as Darling Harbour – ICC Sydney has a unique opportunity to foster and promote reconciliation.
"We are very proud to be located in this special place, where people have gathered to meet, trade and hold ceremonies for many tens of thousands of years, which is why we are committed to meaningful engagement with First Nations communities and through our event Legacy Program, we will continue to present First Nations culture to the thousands of visitors walking through our doors each year."
ICC Sydney's second Reconciliation Action Plan demonstrates its commitment over a two-year period to celebrate the cultures, protocols and traditions of Australia's First Nations people. It expands upon established initiatives across four key areas of relationships, respect, opportunities and governance, with several deliverables, including working with First Nations businesses and communities through its supply chains and community networks.
Reconciliation Australia chief executive officer, Karen Mundine said she looked forward to following ICC Sydney's ongoing reconciliation journey.
"ICC Sydney's Innovate Reconciliation Action Plan is an opportunity for the venue to strengthen existing and new connections that will become the lifeblood of its Reconciliation Action Plan commitments. By enabling and empowering staff to contribute to this process, ICC Sydney will ensure shared and cooperative success in the long-term," Mundine said.
Metropolitan Local Aboriginal Land Council deputy chair, Councillor Yvonne Weldon commended the Centre on its capability to strengthen relationships between First Nations businesses and international and interstate visitors.
"Across this Country, my people have come together to continue our traditions, practices and ceremonies for over 65,000 years and we are continuing to do this, with, in and alongside ICC Sydney," Councillor Weldon said.
"As a prominent location for local and international visitors, ICC Sydney has a unique opportunity to educate and inspire its audiences to connect with Australia's First Nations.
"The initiatives that ICC Sydney has committed to across employment, economic development and cultural education are great examples of how the cultures, heritage and history of our First Peoples can be celebrated and continue to be widely promoted.
"I commend ICC Sydney on the grassroots approach it has taken to launch its second Reconciliation Action Plan under the Innovate framework and look forward to ongoing collaboration along our shared journey of Reconciliation, Respect and Reciprocity."
ICC Sydney director of corporate affairs and communication, and chair of the Centre's Reconciliation Action Plan Working Group, Samantha Glass said the venue's commitment toward an equitable and reconciled Australia included initiatives that will reach event attendees and its workforce alike via their new commitments.
"We have the great privilege of welcoming people from around Australia and across the world and for many, their experiences at ICC Sydney may be their first in Australia – whether in person or online," Glass said.
"We believe we have not just an opportunity, but an obligation to celebrate and acknowledge Australia's First Nations.
"By continuing to build a welcoming and inclusive culture, we hope to extend career opportunities and encourage more First Nations people to join our team."