The enormous screen has turned on just in time for a huge line-up of events at the Sydney Olympic Park venue.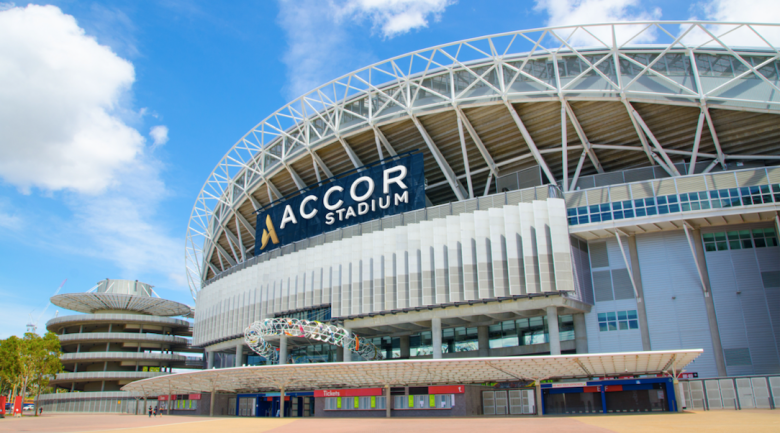 Accor Stadium has switched on its gigantic new screen ahead of a whopper schedule of events at its Sydney Olympic Park venue.
Measuring 120 metres long and 10 metres high, the Great Southern Screen stretches around the entire southern end of the Stadium and is the longest high-definition straight-run stadium video display in the world. It is part of more than $10 million of fan-focused digital upgrades throughout the venue.
"We're committed to bringing the biggest sporting fixtures, concerts and events to Sydney and to do that we need world-class stadiums with the latest technology and state-of-the-art facilities," Minister for Tourism and Sport Stuart Ayres said.
"We are continuing to invest in Sydney's major event venue to ensure the people of NSW are given the best live stadium experience in Australia and we attract the biggest names in sport, music and arts from all across the globe to New South Wales."
The unveiling of the Great Southern Screen comes just in time for a number of huge sporting events for Accor Stadium, including the AFL Round 1 Sydney Derby, Giants v Swans, on Saturday 19 March, followed by the Canterbury Bulldogs' opening home game of the NRL season against Brisbane Broncos on Sunday 20 March. Soon after, Australia's Socceroos will play a crucial FIFA World Cup qualifier against Japan in front of a huge crowd on Thursday 24 March.
"The run of events in March is just the beginning of a packed calendar of events at Accor Stadium this year with State of Origin I in June and two huge concerts featuring global acts Guns N' Roses and Foo Fighters already announced for later in the year,"Accor Stadium chief executive officer Daryl Kerry said.
Sydney's Olympic stadium officially became Accor Stadium last November after Accor, the largest hotel operator in the Pacific, won the naming rights for the iconic venue in Sydney Olympic Park.