At a time where staff reconnection is more important than ever, these foodie focused experiences are the perfect way to treat your teams.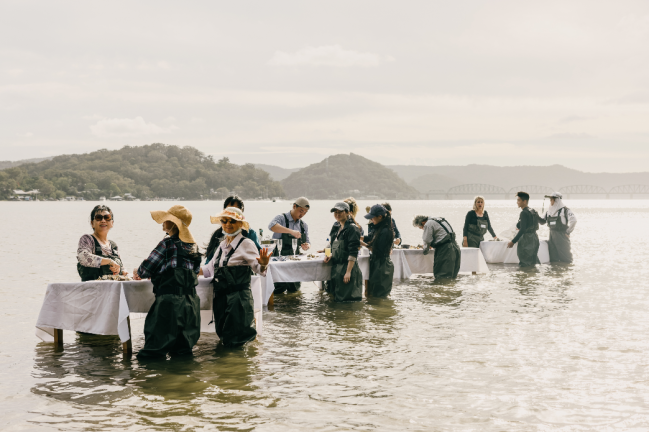 Sydney Oyster Farm Tours.
At a time where staff reconnection is more important than ever, these foodie focused experiences are the perfect way to treat your teams.
Shuck oysters straight from the source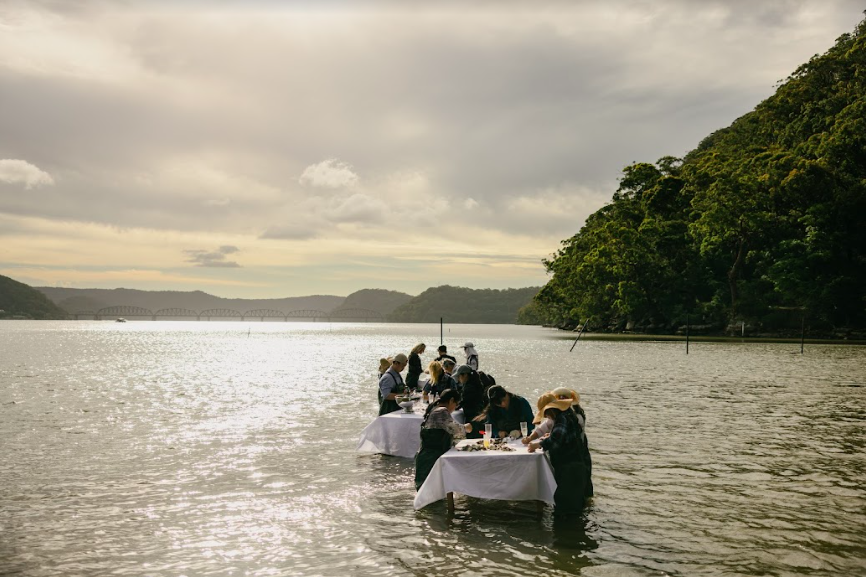 Treat the team to an unforgettable afternoon of shucking oysters and sipping champagne in the pristine waters of the Hawkesbury River. Located just 45 minutes north of Sydney CBD, Sydney Oyster Farm Tours offers guided tours of its family owned and operated oyster farm in Mooney Mooney, New South Wales.
Participants will get to meet second and third generation oyster farmers as they go behind the scenes and explore the farming and cultivation of oysters, while learning to shuck and taste the freshest Sydney Rock and Pacific oysters they've ever had. The Immerse Yourself tour includes a boat ride to the oyster leases and an in-water oyster tasting experience with refreshments, or you can take it up a notch with the OysterElegance which ends with a premium gourmet seafood lunch on a secluded beach overlooking the river.
Master the art of gin making
Get the whole team engaging in a gin making workshop at Brisbane Distillery Company, Australia's first Gin School. Participants will have more than 140 botanicals to choose from to create their very own bespoke gin to take home, which they'll distil in a mini copper still while learning about the history of gin and its unique creation process.
There's drinks and snacks included and while there are 30 stills, most of the classes are better suited to smaller groups for a more intimate and tailored experience. After class, head out to The True Spirit Bus – a refurbished 1970s double-decker bus that has been reinvented into a cocktail bar complete with booth seating, a rooftop deck, and the ability to be hired out and configured for larger groups.
Fire up the barbie
Taking backyard barbecuing to a whole new level, the Weber Grill Academy in Adelaide offers a range of barbecuing experiences ideal for groups and team building days. For groups of up to 20 seeking serious barbecue action, the Hands-on-Tongs experience is as hands on as it gets, with each participant contributing to the preparation and cooking of the group's meal. For larger groups of up to 30, there's the Light Hands-On-Tongs which includes engaging barbecue demonstrations presented by Weber's barbecue specialists and offers guests the opportunity to try their hand at cooking parts of the meal themselves.
There's also 'live barbecue catering' available, featuring South Australian produce and beverages. All private group bookings get exclusive use of the entire Weber Grill Academy purpose-built venue, which includes a large all-weather balcony decked out with the full range of Weber barbecues, an alfresco dining area with full bar, dedicated staffing, and audio-visual facilities.
Head to new heights
New Zealand's South Island is renowned for its stunning natural scenery and there's no better way to take it all in than from soaring above in a helicopter. Based in picturesque Kaikoura, South Pacific Helicopters combines breathtaking scenic flights over the peninsula and mountain ranges with unique and immersive food and beverage experiences, making them ideal for groups and incentives.
Land on a private alpine site and tuck into a picnic of local delicacies and bubbles as you watch the sun set behind the ranges, sample artisanal gin at a boutique distillery nestled on the foothills of Mount Fyffe, or enjoy a day of pure indulgence with an exclusive wine tasting at Cloudy Bay Winery before flying over the spectacular Marlborough Sounds and landing at a luxury resort for a delicious lunch.
Get a little cheeky
Acclaimed Indigenous chef, television presenter and author Mark Olive has teamed up with Sydney-based Cheeky Food Events to bring the flavours of Indigenous Australia to corporate team building and events. Aptly named The Cheeky Olive, this MasterChef-inspired activity will see participants tap into Olive's passion for cooking and intimate knowledge of native ingredients to create authentic Aussie bush tucker in a hands-on, competitive cooking challenge format.
Designed to bring colleagues closer together through the fun and creativity of cooking, the experience offers unique cultural insights and teaches people how to easily integrate interesting native flavours into their daily cooking. The Cheeky Olive can be booked privately for groups of 10 or more.