The new Auckland CBD hotel is the brand's inaugural NZ property and currently features 286 rooms.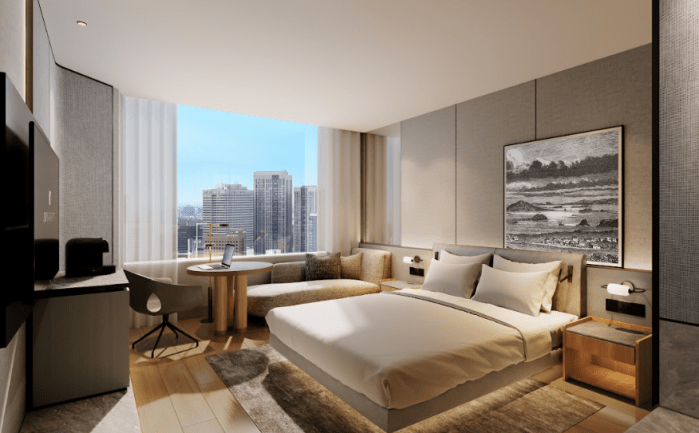 JW Marriott Auckland has revealed the new design concepts for its guest rooms, marking the first phase of its $23 million refurbishment project.
Led by esteemed global interior design studio O37, the new rooms showcase a contemporary and sophisticated aesthetic that integrates the hotel's existing features with the signature luxury of the JW Marriott brand, all guided by the principle of mindfulness.
The design concept draws inspiration from New Zealand's nature and the fusion of the old and the new, centred around the idea of "beautiful collisions," to create a harmonious and serene living space.
"With the JW Marriott Hotel Auckland's complete transformation on the horizon, we are thrilled to provide a glimpse of what awaits our guests," Marriott International area vice president Australia, New Zealand and Pacific, Sean Hunt said.
"The new room designs perfectly capture the essence of our brand DNA, reflecting the legacy of our founder J. Willard Marriott's vision of holistic well-being and mindfulness. We invite travellers to bring their whole selves and be fully present as they immerse themselves in the vibrant city of Auckland."
Situated in the heart of Auckland CBD, the new JW Marriott Auckland is the brand's inaugural property in New Zealand and currently features 286 rooms with brand-new JW signature beds and smart TVs with Chromecast.
By September, 40 rooms will be renovated to showcase the new design, with reservations opening shortly after. Following this, the hotel will continue its transformation by renovating each floor, with the completion of all rooms set for mid-2024. Simultaneously, the hotel plans to fully renovate the all-day dining restaurant, meeting rooms, and lobby area, which have already undergone initial refurbishments.
The top floor features an expansive fitness centre, spa, sauna, and indoor heated swimming pool, all overlooking views of the CBD and Auckland Harbour Bridge.
O37 founder and creative director, Leonard Lee, shared insights into the design process, saying, "The idea was sparked when I visited the hotel, and it brought to mind the story of a wandering poet who discovered true love and a new beginning in Auckland. Like her, our goal was to capture the essence of this city's nature, culture, art, and music and infuse it into every aspect of the property, blending both the old and the new through the 'beautiful collisions' concept."