The award was for the Dicker Data TechX 2022 roadshow, a premier biennial event that traveled to four Australian cities from August to September 2022.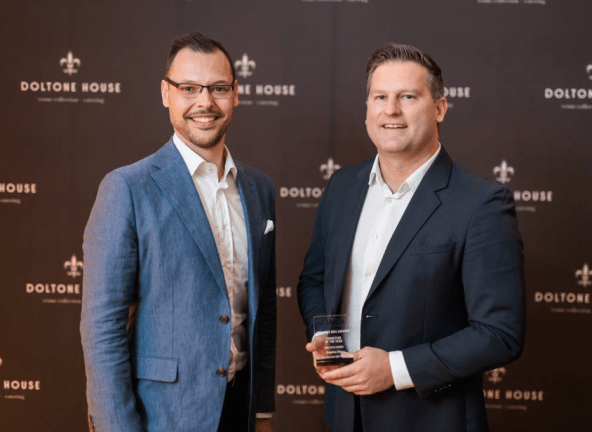 L to R: Ben Johnson and Dylan Retif.
Event management company Creative Hire, has won the 'NSW Exhibition of the Year' Award at the Meetings and Events Australia (MEA) Awards for Excellence, in recognition of its delivery of the Dicker Data TechX 2022 roadshow.
The TechX 2022 roadshow, organised by Dicker Data, was a premier biennial event that traveled to four cities from August to September 2022. The roadshow started in Perth and made stops in Brisbane, Sydney, and Melbourne, concluding with a successful event series in Australia. Creative Hire was the official partner responsible for delivering the Australian TechX roadshow events, including an additional event held in New Zealand.
Creative Hire chief executive officer, Dylan Retif, expressed gratitude to MEA for the recognition.
"We are honoured to be recognised by MEA, a distinguished leader in our industry, for this esteemed award in partnership with our long-standing client Dicker Data," Retif said.
"MEA has been a steadfast supporter of our industry, particularly during the recent challenging times as we return to in-person meetings and events. We're grateful for their unwavering commitment to fostering growth and innovation within the events and exhibitions sector.
"At Creative Hire, we thrive on pushing the limits of what is possible in the events and exhibitions industry. Our passionate team live and breathe events and this recognition highlights our determination and commitment to delivering show stopping experiences for our clients."
The TechX Roadshow is the largest ICT event in the region, bringing together Australia's top reseller and vendor partners. Creative Hire managed the entire event delivery process, from initial brief and floor plans to stand design, graphics, furniture and audio-visual product hire, event signage, venue liaison, freight, local subcontractors, and installation.
This year's Roadshow explored the theme of 'Innovation Accelerated,' addressing pivotal industry challenges such as global supply shortages, new technologies, and emerging global cybersecurity risks. Attendees had the opportunity to network with industry experts, gain insights into new technologies, and learn about industry trends and best practices.
Dicker Data general manager for marketing and strategy, Ben Johnson, said the award was well-deserved recognition for the hard work, passion and energy that both teams put into the event.
"Our team is honoured to see TechX named the NSW Exhibition of the Year by Meetings and Events Australia," Johnson said.
"The TechX event series is a significant undertaking for our business and it is made possible by our industry-leading team and our key partners, namely Creative Hire, which has been by our side since 2015 and has played a strategic role in helping us innovate and deliver a world-class experience for our sponsors and partner attendees year after year."