The initiative aims to help raise the profile of the region as a premium business events destination.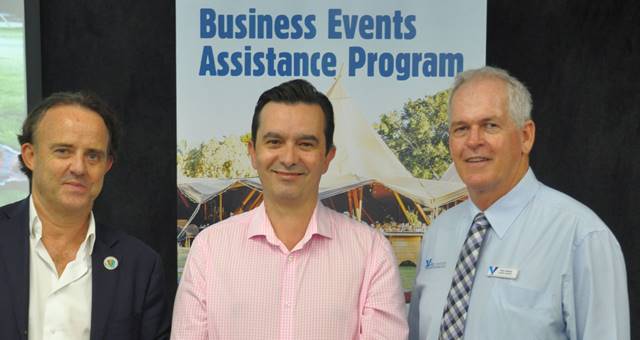 Pictured: Simon Latchford, Visit Sunshine Coast; Paul Martins, Sunshine Coast Council; Gary Mears, The Events Centre
The Sunshine Coast has launched a new Business Events Assistance program to help raise the profile of the region as a premium meetings and exhibitions destination.
Tourism, Sport and Major Events Portfolio Councillor, Jason OPray, said the program will attract events which align with the Regional Economic Development Strategy and high value industries.
"The purpose of this program is to support local business, industry groups and our tourism supply-chain to attract high yielding national and international business events to the region," Cr OPray said.
"Business events are recognised as providing the highest yield of any tourism segment and are estimated to generate up to six times the average expenditure of leisure travel visitors.
"The value of business events in Queensland alone is worth $4.2 billion, with business travel injecting $266 million into the local economy last year.
"With the launch of this program we are looking to grow our share of the valuable business events market.
"Bid wins are also invaluable for raising the region's profile, both as a leisure and business events destination and as a place to do business."
Visit Sunshine Coast CEO Simon Latchford said the Business Events Assistance Program will not only benefit the local industry but the full tourism supply-chain including venues, accommodation, attractions, transport and a range of other service providers.
"Sunshine Coast presents a diverse and attractive offering for event organisers who are tired of the same experiences in capital cities and that is why the region has been able to recently secure the Australian Event Awards and the Australian Cruise Association Conference," Mr Latchford said.
"We are finding more than ever that conference groups are excited by the region's unique event and incentive capabilities, particularly when they discover the options in our 'natural amphitheatres' showcasing beachside destinations or lush rainforest and hinterland.
"These are the type of exclusive spaces and experiences that can't be found in the city destinations and leave delegates refreshed and rejuvenated.
"Our recent success is just the tip of the iceberg and we know we can win more events this program will assist event organisers to drive more business visitors to the Sunshine Coast."
To be eligible for the program, business events must target a minimum of 200 delegates and conference for a minimum of two days; attract a minimum of 75 per cent of delegates from outside the Sunshine Coast region; and events must occur completely within the Sunshine Coast Council area.
Meanwhile, Sunshine Coast Airport has been named Asia-Pacific's best airport for under 10 million passengers at the CAPA Aviation Awards.
The accolade was accepted by Sunshine Coast Airport general manager Peter Pallot at a ceremony attended by airport and airline representatives from across Asia.
For more information, Click here.