Southern Highlands Corporate Events, a dynamic new destination management company, has officially launched to the corporate market.
Southern Highlands Corporate Events (SHCE), a dynamic new destination management company, has officially launched to the corporate market. The organisation's innovative services will showcase the broad range of offerings the region can provide aiming to make the Southern Highlands the preferred corporate event destination in regional NSW.
Managing director Carla Offord, says that the Highlands has outstanding capabilities for the corporate tourism market. She believes the best way to experience the Highlands is to think outside the square and dare to do something different.
"The region provides unique experiences to corporate travellers, conference planners and delegates from five star accommodation, award winning wineries, fine dining and recreational or team building experiences back-dropped by the natural beauty and truly seasonal climate of the area."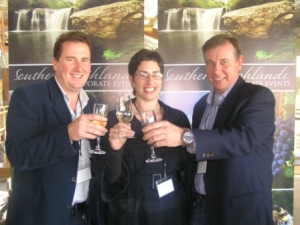 Company directors; left to right, Sam Whyte,
Carla Offord and Neil Wallis.
Image courtesy of Southern Highlands News-a division of Fairfax Media.

Tourism Southern Highlands, executive manager tourism, Steve Rosa said " The Southern Highlands holds great potential for further expansion in business tourism, as it brings in significant numbers of high spending corporates who sustain the upper end of the accommodation sector and businesses associated with conferencing and exhibitions. This market is extremely valuable for our region as it represents high quality, high yield end of the tourism spectrum and is resilient, sustainable and complements the leisure tourism sector which has been steadily growing to the Southern Highlands in the past 4 years.
Additionally, Business Tourism creates quality, year-round employment opportunities, accounting for more than 2,000 jobs directly and indirectly in our region. The flow on effect of business tourism to our region sees business people returning with their friends and relatives for the purpose of leisure following a successful business trip to the Highlands. We look forward to working with SHCE and the local tourism industry in their efforts to position the Southern Highlands as the destination of choice."
SHCE services will include assisting corporates in searching for accommodation, conference and meeting services available in the area. SHCE will also specialise in assisting organisations in selecting the right team building activity unique to the Highlands and appropriate to client's needs.
According to Sam Whyte, director and partner, Southern Highlands Corporate Event's knowledge of the region is second to none, "We work closely with local businesses to design activities that encourage participants to experience the destination, take the 'I' out of team and most of all have fun. We can arrange anything from a yoga session before a conference, to luxurious spa treatments as well as well-being seminars.
"If an organisation is planning a special event, we are able to assist in finding your perfect venue and have developed an event management service to support all aspects of staging an event. If unique, different or wow is what a client is trying to achieve with a themed event then the Southern Highlands is definitely the venue," said Whyte.
The team at SHCE bring together over twenty years of corporate tourism and event management in the region. Founders of SHCE, Carla Offord, Sam Whyte and Neil Wallis have in depth local knowledge, which along with their partnerships and contacts in the region will provide clients with a 'one-stop-shop' for all their corporate event requirements.
SHCE is also planning to create signature events that will attract corporate participants and major corporate sponsorship opportunities in the Highlands.
For further information click here.