Melbourne is to host Tourism Australia's largest trade marketing event in December, Dreamtime 2013, helping to further grow the $12 billion plus business events sector.
Melbourne is to host Tourism Australia's largest trade marketing event in December, Dreamtime 2013, helping to further grow the $12 billion plus business events sector.
Announced Monday (25 Feb) by the Minister for Tourism, the Hon Martin Ferguson AM MP, during the opening of the inaugural Business Events week in Melbourne, Dreamtime 2013 will bring together 125 international business events decision makers (buyers) with the Australian business events industry to experience the destination's capabilities for doing business.
Tourism Australia managing director Andrew McEvoy said Dreamtime was part of a broader strategy to promote Australia as a business event destination internationally and deliver economic benefits to the sector.
"Dreamtime gives the Australian business events industry a platform to do business with well qualified international buyers from key markets such as China, Hong Kong, Korea, Japan, India, Singapore, Malaysia, Indonesia, New Zealand, North America and the United Kingdom," he said.
"The format of the event provides an opportunity for the Australian industry to demonstrate their expertise in delivering bespoke corporate incentive experiences as well as hosting large scale gala events. "With its combination of state-of-the-art infrastructure, monumental architecture, abundance of green spaces, and a sophisticated dining scene, Melbourne has a strong offering for key business events decision makers looking to achieve real results from their corporate incentive programs," McEvoy said.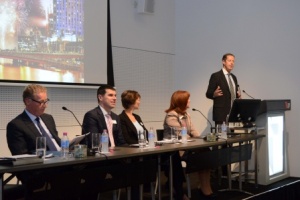 The Dreamtime announcement was made in Melbourne on Monday at a press conference to kick off Business Events Week.
During Dreamtime 2013 international business events buyers and media will be hosted in Melbourne where they will participate in a city showcase, business sessions with Australian industry and networking dinner events. Three days of educational visits will follow, giving buyers and media the opportunity to experience one of many Australian destinations first hand.
Melbourne Convention Bureau CEO Karen Bolinger said hosting Dreamtime 2013 was a tremendous business opportunity for the city.
"Being the host city for Dreamtime is a major coup for Melbourne, as it will allow us to showcase the city's corporate and incentive offering to key markets from across the globe," Bolinger said. "Melbourne has always had a collaborative approach to bidding for and securing incentive business. We worked closely with our partners to prepare the Dreamtime program which will enable us to highlight Melbourne's unique attributes as an incentive destination.
"Melbourne has an impressive track record in hosting large incentive groups, such as the Amway India Leadership Seminar for 4,000 delegates in December, 2012, which is a testament to the diverse range of activities on offer and the ability for the city to cater for groups of any size "The city boasts a huge menu of amazing experiences, which are tailor-made to each individual or group, making the city a planner's and a delegate's dream destination," Bolinger said.
McEvoy said that in an intensely competitive global marketplace, Tourism Australia's business events industry partnership approach to securing international business events was delivering strong results.
"Business events is one of the key areas of the Tourism 2020 strategy to enhance growth and competitiveness in the tourism sector, with the aim to increase tourism spending to as much as A$140 billion by the end of the decade," he said.
"Specifically the business events industry is looking to grow to A$16 billion annually in value by 2020 and already we are well on track to achieving this goal. The industry is making strong progress, with overnight expenditure by business events visitors in Australia increasing to A$12.5 billion in 2011, up from A$10.3 billion in 2010," McEvoy said.