Using AI to determine your event needs and flying electric vehicles will take off next year.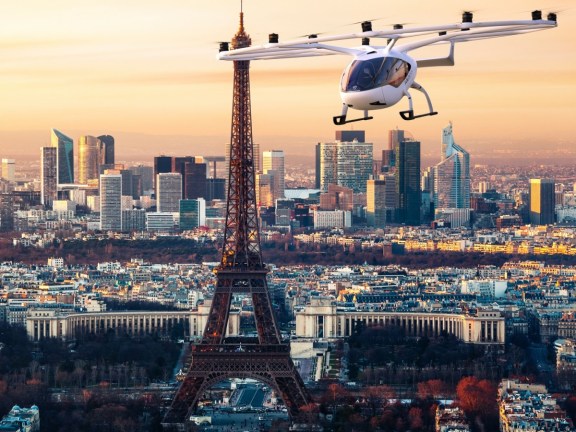 Artist's impression of an electric taxi flying over Paris
Artificial intelligence, unbundled business travel and even flying electric taxis are some of the trends expected to drive travel in 2024.
Amadeus has revealed its annual Travel Trends research which includes some big changes for the way to get around major cities.
The research shows an increase in business travellers using artificial intelligence in event planning and bookings with personalised consumer needs allowing it to become a virtual travel assistant, delivering instant hotel and event recommendations.
Its Global Corporate Marketing & Communications VP, Daniel Batchelor, said after a period of recalibration and reassessment over the past few years, a host of new ideas are coming.
"Generative Artificial Intelligence (GAI) will continue to exert a growing influence across the sector during 2024, while electric taxis are finally poised for take-off," he said.
"Airlines continue to reshape their offering to respond to changing tastes."
While it seems like something out of a sci-fi movie, German aircraft manufacturer Volocopter is planning to provide a fleet of electric VoloCity eVTOL for the Paris Olympics in 2024.
The company is also expanding its reach to Asia with plans to launch electric air taxis in Singapore by 2024.
More affordable and accessible unbundled business class fares are expected to become more popular as airlines offer tickets at the pointy end but with restricted access to lounges and upgrades.
The evolving trend caters to business travellers who seek a premium level of comfort during their air travel without the added benefits.