Auckland was in fine form when twelve Australian and three New Zealand conference and incentive organisers experienced Auckland Convention Bureau's latest famil.
The two-night Auckland famil trip in mid-October was a chance for the group from Sydney, Melbourne, Brisbane, Wellington and Christchurch to get an insiders' guide to New Zealand's premier conference and incentive destination.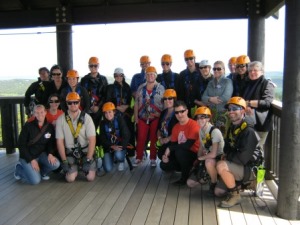 The group all geared up for EcoZip Adventures
ACB Sales Manager Lee Watkins says his team really wanted to showcase the diversity of what Auckland can offer.
Watkins said, "From gourmet dining in the city centre to eco adventures on our idyllic islands, we really made the most of their time here and the feedback has been fantastic."
The group launched into the famil with an opportunity to network with suppliers at Auckland Museum's 1866 Gallery. Cocktails and canapés were catered by SKYCITY Catering & Events and the group were then welcomed by the museum's Maori cultural group before enjoying dinner in the spectacular Grand Foyer of the museum. This was themed by EventSmart and catered by Austin's Food Design Events.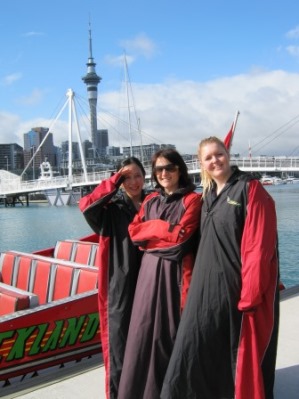 Grace Ng, Lu Budden & Emma Taylor ready for Adventure Jet
Day two of the famil saw the group enjoying breakfast at The Wharf on Auckland's North Shore. A private launch, Activa, then collected the group and transferred them to experience Waiheke Island.
Waiheke was a definite highlight, with the clients ziplining between the vines at EcoZip Adventures, enjoying fine local wines at Mudbrick, boutique beer at Wild on Waiheke and sampling the menu at Stonyridge during the day.
The group were transferred by Ananda Tours whilst on the island and had the pleasure of a bird's eye view of Waiheke from above as they flew back to Auckland in helicopters arranged by North Shore Helicopters.
Local cuisine was also a hit with the group who savoured dinner at Eight at The Langham and lunch at The Sugar Club at SKYCITY during their stay.
The WICKED Broadway musical cast its spell over the group – with guests engrossed by the story and powerful music, the lavish costumes and sets, not to mention the grandeur of the Civic Theatre.
A casual stand-up breakfast at the Viaduct Events Centre was catered by Urban Gourmet with a 'Colours of Auckland' theme, which highlighted Auckland's diversity as a destination to host business events.
The clients ended their trip by cruising to the airport on the back of chauffeured Harley Davidsons arranged by Bularangi Motorbikes.