The winners will attend an international conference in their field over the next three years.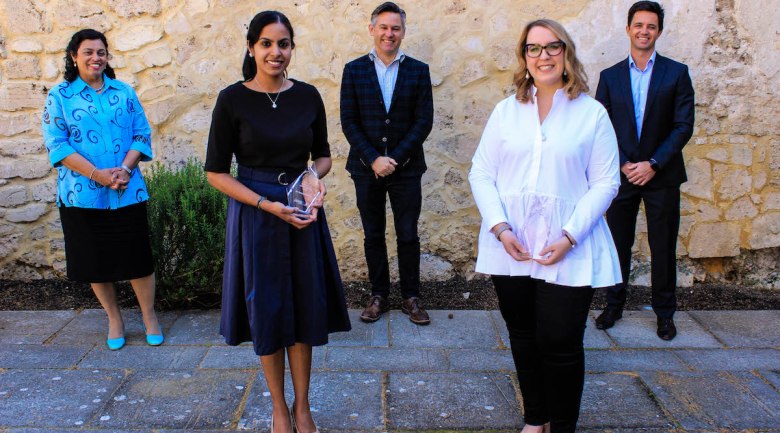 L-R: Notre Dame Pro Vice Chancellor Professor Selma Alliex, City of Fremantle Aspire Winner Dr Ramya Raman, City of Fremantle Mayor Dr Brad Pettitt, Notre Dame Australia Aspire winner Mrs Michelle Katavatis, Business Events Perth CEO Gareth Martin
Nation-leading researchers, academics, professionals have been recognised in the 2020 Business Events Perth Aspire Awards.
Announced today, 3 September, the Aspire Award winners personify the best of Western Australian research and leadership, including a molecular geneticist investigating motor neurone disease and an engineer developing autonomous systems for space stations.
Now in its 21st year, the awards sponsor local academics and researchers to attend, and often present at, a relevant international conference in their discipline, to further their professional development and profile Western Australia internationally.
Business Events Perth CEO Gareth Martin said the organisation was honoured to support such diverse and outstanding individuals.
"This year's winners are an exceptional group of academics, medical researchers and professionals, many of whom are mid-career," he said.
"Attending business events like international conferences, help experts like this year's Aspire Award winners collaborate and exchange knowledge with others in their field, generating ideas and fostering long-lasting global partnerships.
"By travelling to international conferences, these individuals connect with global experts and promote world-leading research taking place right here in Western Australia, showcasing us to the world."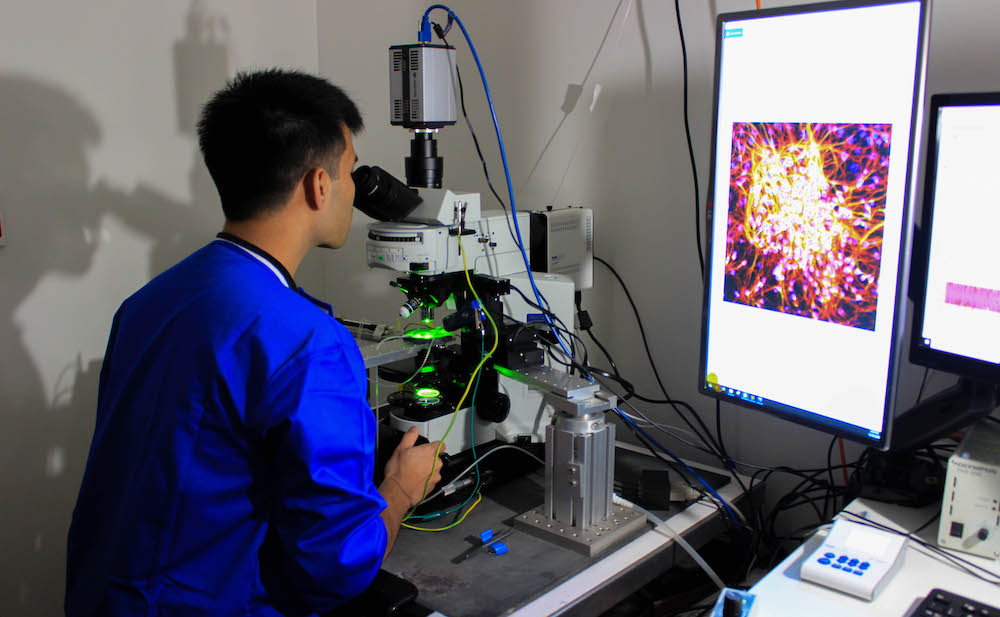 Given international travel is not available right now, the winners will have three years to use the sponsorship to attend the conference of their choice.
Tourism Minister Paul Papalia said the Aspire Awards did a fantastic job of supporting the brightest minds in their respective fields.
"The Aspire Awards look for world leading researchers and business people, and provide them with an opportunity to go overseas, experience the conference and, hopefully, bring that event to Western Australia," he said.
"What business events do is provide a platform for our small business operators and our researchers to speak to the world."
Business Events Perth partners with 12 organisations to run the annual Aspire Awards program and in recent years, has helped attract a number of conferences to Perth, including the 25th Biennial Conference on the Biology of Marine Mammals, coming to Perth in December 2023.
The full list of winners can be found below.
Dr Alex Tang – Neuroscience and brain stimulation
Dr Saskia Freytag – Bioinformatics: human brain studies, epilepsy
Dr Elizabeth Johnstone – Diabetic and rare kidney diseases, DMX-200
Dr Gail Alvares – Autism and mental health, early intervention
Miss Bec Nguyen – App development
Mr Craig McIntosh – Neuroscience: motor neuron disease and Huntington's disease
Mrs Kristin Ham – Neuroscience: muscular dystrophy and epidermolysis bullosa
Dr Ramya Raman – Women's health: post-natal care, "the fourth trimester"
Mr Jason Coleman – Space and remote operations: autonomous systems
Dr Sharon Smart – Paediatric health: tongue tie, AKA ankyloglossia
Mrs Katherine Cresey – University professional services, women in leadership
Mrs Michelle Katavatis – Nursing, online learning at universities
Dr Sae Chi – Transport economics
Dr Mohiuddin Ahmed – Cyber security
Dr Stephanie Godrich – Food security among children in rural communities
Dr Naomi Godden – Climate justice and social movements