A lavish gala has been held to acknowledge the achievements of the business events industry.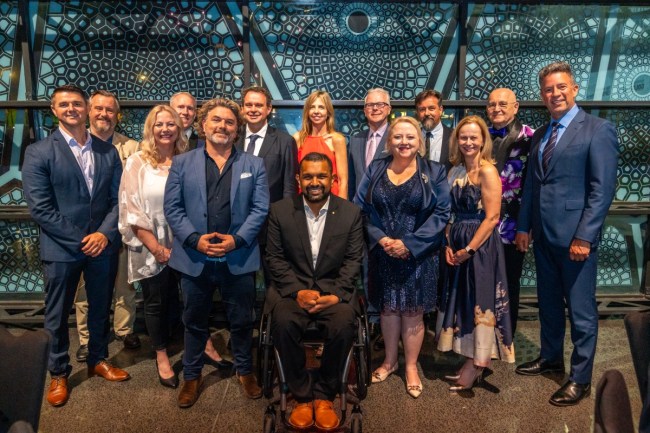 Experience Gold Coast has celebrated and recognised the achievements of BE Connected Gold Coast Ambassadors for their contributions towards promoting, supporting and securing business events for the city.
A gala event at Home of The Arts in Surfers Paradise acknowledged 19 of the Gold Coast's industry leaders who make up the BE Connected ambassador program.
Gold Coast Mayor, Tom Tate, said with the support of the ambassadors, the city is working together to get the edge over competitors when planning a business event.
"On behalf of the city, I thank all our BE Connected Ambassadors who are helping to attract more meetings and conferences to the best business events destination – the magical Gold Coast," he said.
Among the Ambassadors, six received distinguished awards for their contributions, commitment and support for business events including Dr Dinesh Palipana OAM, Dr Ezekiel Tan, Professor Emeritus Ljubo Vlacic and Professor Mark von Itzstein AO.
Associate Professor Dr Hal Rice and Associate Professor Dr Laetitia de Villiers received a standing ovation for their exemplification of partnering with Experience Gold Coast for not only bringing events to the city, but through their work putting the Gold Coast on the world medical stage.
Experience Gold Coast Acting CEO, Rachel Hancock, said the evening was recognition for the individuals who represent Gold Coast business events but also a testament to the power of collaboration and contribution to the growth and reputation of the city.
"While all our Ambassadors contribute and go above and beyond, there are a few this year that made some truly remarkable contributions to business events and this city that need to be acknowledged," Ms Hancock said.
The organisation has so far confirmed 90 business events through to 2030 worth $174 million plus an additional 132 events in the pipeline worth $201 million in economic impact.