The leading venue management company has announced its plans to convert its global venue portfolio into the world's most sustainable collection.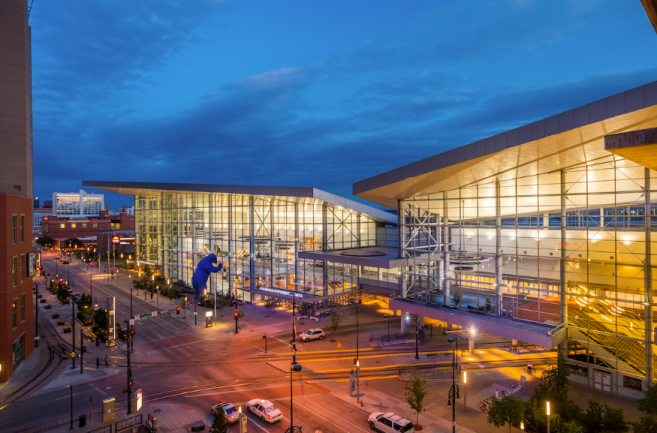 Colorado Convention Centre is a pilot venue for the project.
World leader in venue management, ASM Global, has announced its ambitious plan to convert its portfolio into the most sustainable venues on Earth, through its corporate social responsibility platform, ASM Global Acts.
The company already boasts the largest collection of certified green venues with more than 40 and growing, and has partnered with sustainability consulting firm Honeycomb Strategies to help take it to the next level.
Starting this year, ASM Global will dedicate its full resources to achieving measurable results throughout its businesses using the most comprehensive tracking system in the venue space—intended to reflect that scale and create substantial collective impact in every country that it operates.
"Our current portfolio of LEED-certified venues has set the standard, and we're now raising the bar even higher," ASM Global president and chief executive officer Ron Bension said.
"This entire program will be integrated into all of the relationships with our existing and future clients as part of our intrinsic ASM Global DNA.
"As we stated when we first partnered with Honeycomb Strategies last summer, demand from our established and newer clients for state-of-the-art sustainability innovations has been consistently increasing. We are now in a position to work with them and lead the industry in this incredibly important space."
ASM Global has committed to the following for all its venues:
– Reduce energy consumption by 25 percent by 2030 from baseline year (2023).
– Achieve 20 percent of all energy consumed through renewable energy sources by 2025.
– Carbon neutral by 2050.
– Divert over 50 percent of waste overall by 2025.
– Eliminate single-use plastic in front of house by 2025.
– Reduce water consumption by 25 percent by 2030 from baseline year (2023).
– Award 50 percent of its reportable spend to suppliers adhering to its environmental purchasing policy by 2030.
– Increase plant-based menu options by 35 percent by 2024 within Savor (ASM Global's food division) venues.
– Decrease food waste by 75 percent by 2026 within Savor venues.
Lindsay Arell, one of Honeycomb Strategies' two principals, said, "The project has already begun. We've selected a group of pilot venues across size, type and continents that have begun reporting against the goals," Honeycomb principal and sustainability strategist Lindsay Arell said.
"The aim is to add additional venues at a fast pace to obtain important baseline information for 2023."
ASM Global has also partnered with WeTrack, a SaaS company that provides planning, sustainability goals and operations solutions to some of the world's biggest sports and entertainment brands including FIFA, IOC, Wimbledon, World Triathlon and many others. The WeTrack system has been developed to help customers track progress on sustainability, ESG and CSR initiatives.