It's an international affair at the Radisson on Flagstaff Gardens Melbourne with the newly-refurbished restaurant taking on a world class theme.
It's an international affair at the Radisson on Flagstaff Gardens Melbourne with the newly-refurbished restaurant taking on a world class theme.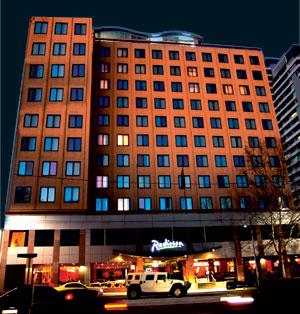 Radisson on Flagstaff Gardens Melbourne
The hotel's focus on world cuisine has been highlighted with the return to the hotel of UK-born chef Daniel Turner (he helped Toby Puttick establish Fifteen in Melbourne in September 2006) from two weeks with the renowned Roux Brothers establishments in the UK — at the Waterside Inn in Bray, just outside London and under the direction of Michelin-trained chef Richard Kearsley at The Linthwaite Hotel in the Lake District.

Turner is Senior Chef de Partie at the Radisson hotel. The hotel's food is under the direction of executive chef Aman Marwah (from India), sous chef Aamod Thappa (Nepal), breakfast chef Gerard Hamon (New Caledonia), commis chef Yu Chun Tai (Taiwan), casual chef Nelson Rosa (Portugal), casual chef Mudit Kumar (India) and apprentice chef Jonathan Perri (Melbourne).
Radisson on Flagstaff Gardens Melbourne general manager, Steve Finlayson, said it has taken him three years to pull together an international kitchen in his quest to present world cuisine.
"I have deliberately recruited an international team with five-star hotel training because no-one can apply ethnic influences like their own people," he said.
Turner said the dishes on the menu today are influenced by his recent experiences in the UK. For example, the entrée of calamari roulade (calamari dipped in five-spice flavoured flour, wrapped in sautéed spinach and enoki mushrooms and served with cucumber mayo) and the main (char-grilled prawns with lemongrass-infused pawpaw salsa).
Marwah said he was applying international influences to local food, purchased primarily from The Queen Victoria Market, just 300 metres from the hotel, for the hotel's Market Menu which offers a choice of two entrees and two mains and changes weekly.
"We have a systemic approach to creating the menu," he said. On a weekly basis, everyone in the kitchen presents ideas from which dishes are nominated, then developed and tested for taste, flavour and presentation at a Chef's Table, attended by hotel management, the kitchen team and an outside guest.
"That aside, if we notice a dish is not selling, we will move quickly to change it, but it will be a like-for-like change, such as replacing a fish dish with a fish dish," he said.
The most popular weekly Market Menu dishes go on the hotel restaurant's a la carte menu which is changed every three months.
"This is a really interesting method because we are continually enhancing our skills and we are providing variety for hotel guests, primarily business travellers," said Marwah.
"We have to be smart with our food for this discerning market which we can present through the international influences and skills of the kitchen," he said.